Find below the iron ore price table for February 21, 2013: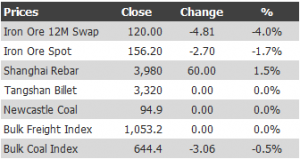 And the chart: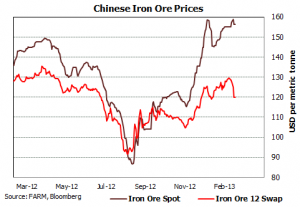 So, most of the damage was confined to longer dated swaps. Rebar spot obviously held up even if futures got pulverised. The spread between the two is now closed.
In case you missed it, the driver of the falls was yesterday's news that Chinese authorities are moving to suppress housing:
China told local authorities to "decisively" curb real estate speculation and take steps to rein in the property market, stopping short of imposing fresh measures after prices rose the most in two years last month. Cities that have had "excessively fast" price gains should "promptly" impose home-purchase restrictions if they've not done so already, according to a statement yesterday after a State Council meeting headed by Premier Wen Jiabao. Provincial capitals and municipalities reporting directly to the central government should publish annual price control targets to keep new-home costs "basically stable," according to the statement.
This is an integral component of rebalancing. Real estate prices are a key trigger for speculative investment, construction and local government debt. As I've said many times, the Chinese authorities will keep their boot on it. As such:
China is NOT embarking on a new cycle of renewed investment vigour. Rather, it is staving off its own inevitable descent from unsustainable investment highs.

The communists have decreed that the decline will be a managed slope but it will still happen. The second half of 2013 is not going to bring acceleration in a new Chinese cycle. It is going to look more or less like the second half of 2012, with Chinese growth and bulk commodity prices under pressure. Iron ore will fall on subdued Chinese demand and awesome new supply.
This should mark the end of the iron ore rally with the one way bet on an accelerating China now dead. "Should" is the operative word. I have no idea whether the market will agree but note that there is a nice set up for a double top. Sudden declines are possible but perhaps unlikely until markets grasp that Chinese growth is not going to get much better than it is now and will slow into the second half. I'm not sure we're there yet.
Related Posts via Categories