With the Greek PSI deal fast approaching the European banks are out declaring their hands:
RBS says:
The Royal Bank of Scotland has reported its fourth year of losses since the bank's bailout in 2008. The bank posted an attributable loss of £2bn in 2011, up from a loss of £1.1bn in 2010.

…

RBS had to set aside £850m to compensate people who bought payment protection insurance they didn't need. It also had to take a loss of £1.1bn on its investments on Greek government debt amid the ongoing eurozone debt crisis.
Dexia says:
Dexia SA, the Belgian-French bank navigating a government-orchestrated dismantling, Thursday reported a €11.6 billion ($15.37 billion) net loss for 2011, driven by a write-off of its Greek bond portfolio and costs linked to the break-up of the bank.

Dexia said the 2011 net figure included a €4 billion loss from selling Dexia Bank Belgium to the Belgian government in October and a €3.4 billion loss on its Greek government bond holdings due to the restructuring of Greece's debt.
Allianz  says:
For the full year, net profit fell to €2.55 billion from €5.05 billion, also worse than the €3.02 billion net profit the analysts forecast. Allianz attributed the decline notably to €1.9 billion in impairments, of which €1.24 billion was for stock market investments, notably in the financial sector, and €516 million for Greek sovereign debt.
Credit Agricole says:
Credit Agricole has reported a large loss for the three months to the end of December due to its exposure to Greek debt. France's third-largest bank lost 3.1bn euros (£2.59bn; $4.1bn), up 9.4% on the same period in 2010. It lost 1.1bn euros over the whole of 2011.
Bank of Cyprus says:
The bank, which has €37.8 billion ($50.1 billion) in assets, took a €1.3 billion ($1.7 billion) fourth-quarter hit owing to the impairment on its holdings of Greek government bonds.
As an aside, Bank of Cyrpus also got some help from some locals recently:
Regional Bendigo and Adelaide Bank will pay $130 million for the local arm of Bank of Cyprus Group, marking the European bank's exit from Australia.

To help fund the deal Bendigo, is undertaking a fully underwritten $120 million share placement to selected institutional investors at a price of $8.45 per share.

Bank of Cyprus operates 14 branches across Australia, focussed on the Greek and Cypriot communities with a $1.4 billion lending book. For Bendigo, the transaction represented book value for the business.
As I noted above, RBS has taken a large write-down in Greece debt, but that hasn't stopped their head of European credit strategy, Alberto Gallo, informing Bloomberg that Europe's troubles are far from over.
It wouldn't be a surprise to MacroBusiness readers to hear such comments about Europe. I have stated many times over the last few months that the likely outcome for Europe is a zombification of the many parts of the banking system due to the dual influences of the ECB's LTRO and tighter capital requirements under Basel III.
As I said in reference to Commerzbank last month the expected outcomes are:
… measures include shrinking risk-weighted assets, halting all new loans aside from clients doing business in Germany and Poland, suspending all new business in certain operational areas, retaining earnings and tightening up the cost structure including sacking staff.

What isn't mentioned in the article, but I suspect is happening, is that Commerzbank, like other European banks, is using the liquidity provided by the LTRO to continue to re-purchased its own financial instruments.
And that is exactly what the Wall street Journal reported over night:
Germany's Commerzbank AG said Thursday it will boost capital by €1 billion ($1.32 billion) to meet new tougher regulations and gave an upbeat outlook for 2012 after it posted higher fourth-quarter net profit.

Net profit in the fourth quarter rose to €316 million from €257 million, as a €735 million gain from repurchasing its own debt outweighed the impact of hefty write-downs on its Greek debt holdings.
With more from Reuters:
Commerzbank said euro zone market jitters continue to threaten earnings after its fourth-quarter results were spoiled by an almost 1 billion euros ($1.3 billion) hit related to Greek sovereign debt.

Chief Executive Martin Blessing On Thursday also announced a 1 billion euro capital increase for the partly state-owned lender, which needs to plug a 5.3 billion euro capital hole as required by Europe's banking regulator EBA.

"The high degree of uncertainty associated with the European sovereign debt crisis will … continue to pose challenges for us," Blessing said as Commerzbank posted lower-than-expected fourth quarter earnings.
And the kicker:
To meet EBA capital requirements Commerzbank does not have to generate a lot of net income in the first six months of 2012 as most gains will come from reducing risky assets (RWA), DZ Bank analyst Christoph Bast said.

"Taking into account 1.8 billion euro in RWA management and 400 million bonus compensation in shares Commerzbank needs only 100 million net income in the first half of 2012 to fulfil EBA capital requirements", he said.
So what does that mean? Well we will need to wait for the next bank lending survey from the ECB to get the broader post-LTRO part I story, but I suspect it will mean more of this: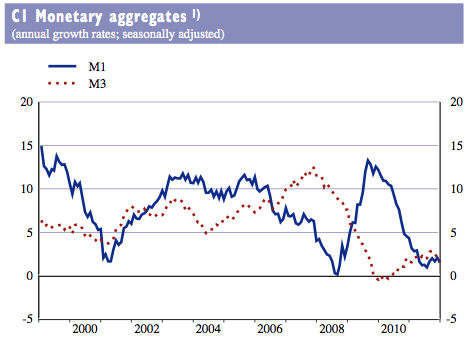 Leading to more of this: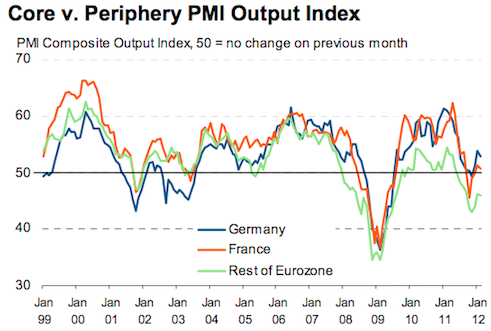 Which means this is likely to be a little on the optimistic side:
The 17-nation eurozone economy will suffer a modest recession this year despite recent signs of stabilization, particularly in financial markets, the European Union's executive branch said Thursday.

In its latest projections, the European Commission forecast a 0.3 percent contraction in the eurozone economy, with Greece leading the way downward with a massive 4.4 percent decline.
Not that optimistic predictions are new to the EC:
Spain's economy will relapse into a recession in 2012 and additional austerity measures may worsen the slump, the European Commission said.

Spain's economy will contract 1 percent this year after expanding 0.7 percent in 2011, the commission said in a report today. In November, the commission had forecast Spanish growth of 0.7 percent in 2012.