The Australian has an interesting story today on crashing QLD gas prices:
QUEENSLAND gas prices have slumped to record lows just as $70 billion of LNG export projects being built at Gladstone start to increase production from thousands of coal-seam gas wells ­designed to fuel the plants.

The flood of cheap gas comes as exporters start to ramp up their CSG wells before completion of their big LNG plants on Curtis ­Island, which will freeze the gas for export at much higher prices.

After they start, however, things are expected to rapidly turn around as the LNG plants suck up all available east coast gas for export, bringing in price increases and potential shortages.

AGL Energy chief executive Michael Fraser said gas prices in Queensland were as low as $1 a ­gigajoule, which is well below the traditional $3-$4. Prices are expected to surge to the $8-$10 range after 2015.
Not for long then! How high are they going to go in the next year? Tough to judge but one blessing is the sudden Pacific Rim gas glut which has regional spot prices still well below last year. From Platts:
Korea Gas Corporation is looking to offload between 10 and 17 cargoes of LNG in October and November, as it battles with high stocks following lower-than-expected temperatures over the summer and an economic slump, sources with knowledge of the situation told Platts Thursday, August 28.

Kogas — the world's single largest buyer of LNG — will need to offload at least 10 cargoes over the two months, the sources said.

The state-owned company has already approached its term contract partners for assistance, looking to defer deliveries into Q1 2015 and beyond, a source close to the buyer said.

However, Kogas's suppliers are already faced with limited flexibility.

The buyer had already deferred a number of deliveries in May and June, pushing deliveries until later in the year, following a mild winter which left stocks at high levels.

"Kogas are deferring for the second time so [their] options are now exhausted. I'm not sure how much more assistance the sellers can give," the source said.

The supply overhang could total more than 1.5 million mt over 2014, with some reports pegging the surplus as high as 30-40 standard sized cargoes, as previously reported by Platts.
In other words, contracts are already under pressure as well as spot. I expect that within a year or more this will become a huge shit-fight as the spot-contract price spread becomes persistently huge versus contracts. Here's the updated spot chart: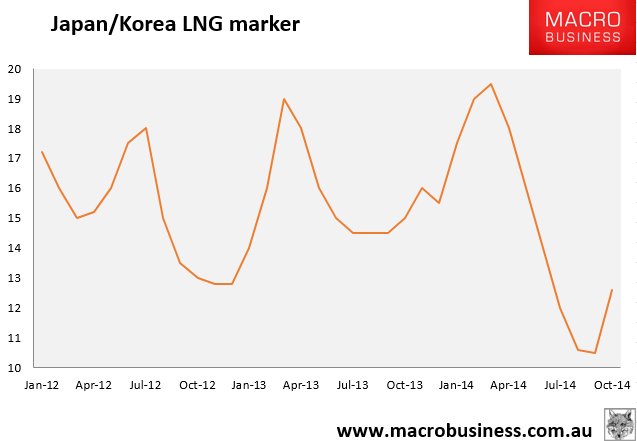 How high local prices will get once the Curtis Island projects are underway is anybody's guess but I think we can rule out some of the more outlandish forecasts above $10 per gigajoule. Using a rule of thumb cost of liquifaction and shipping of $6-7mmBtu, we might get actually get away with price spikes in the $6-7 range, much lower and earlier than many expect.