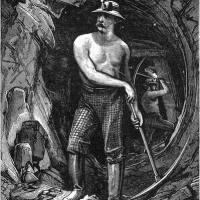 From our favourite eponymous iron ore analyst today, UBS's Tom Price, pictured above on a recent tour of the Pilbara:
"Our view is this fall in the price is temporary…You will actually start seeing the price tighten, inventories draw down, steel production lift, they always do every year. So over the next six months our expectation is for the prices of iron ore to recover and get back to a level of about $US130. We think that's a reasonable one for the first half of this year…The surge in supply – we highlighted that as a risk to iron ore prices back in Q3 but it seems to have had a knock on effect coming in to 2014 – has changed the mood among steel mills in China…They are not as anxious about securing ore in the short term because they know there is more material coming."
A return to $130 is very possible if mills aggressively restock but if they are comfortable with short term ore supply, and subdued demand, why would they bother?
(BTW Dalian futures are finally off the canvas today up 1.1%)
Related Posts via Categories