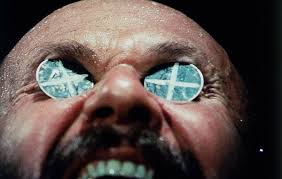 The ribald rally in the Australian dollar yesterday has come to abrupt end as markets woke up to crumbling Chinese data, a Crimean referendum and lousy US data.
It's not entirely clear what triggered what but the outcome was plain as day with stocks taking a 1.5% flogging and long bonds attracting a strong bid with yields down nearly 2%. The thirty year is now just 5 points above the 2014 3.55% low and is forming a bearish descending triangle pattern;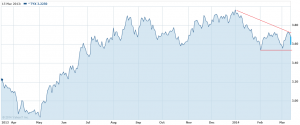 If it breaks, then the taper is likely too as well.
Supporting that contention, gold added a little to yesterday's impressive gains: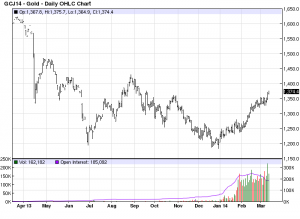 Again supportive, the US dollar also slumped (and recovered) but is clearly in a weakening trend: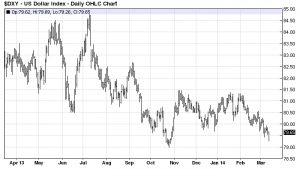 The US data flow was awful, reinforcing taper tapering. From Calculated Risk:
The U.S. Census Bureau announced today that advance estimates of U.S. retail and food services sales for February, adjusted for seasonal variation and holiday and trading-day differences, but not for price changes, were $427.2 billion, an increase of 0.3 percent from the previous month, and 1.5 percent above February 2013. … The December 2013 to January 2014 percent change was revised from -0.4 percent to -0.6 percent.
That's one chilly winter! Goldman can't slash its first quarter growth forecasts quickly enough:
BOTTOM LINE: Although February retail sales rose a bit more than expected, negative back revisions more than offset the front-month surprise. Separately, initial and continuing jobless claims both fell more than expected. Import prices rose more than expected in February, but declined on a year-on-year basis. We reduced our Q1 GDP tracking estimate by two-tenths to 1.5%.

February retail sales rose 0.3% (vs. consensus +0.2%). Core retail sales?used by the Commerce Department to estimate the personal consumption expenditures (PCE) component of the GDP report?also rose 0.3% (vs. consensus +0.2%). By category, the strongest gains occurred in sporting goods (+2.5%) and non-store retailers (+1.2%), both bouncing back from weakness in January. (Non-store retailers mainly represent online shopping.) However, back-revisions to core retail sales in January (-0.3pp to -0.6%) and December (-0.2pp to +0.1%) were significant and widespread across categories, suggesting a trajectory of consumer spending in Q1 that was weaker than we anticipated.

We reduced our Q1 GDP tracking estimate by two-tenths to 1.5%.
But! The Australian dollar wasn't interested in any renewed QE: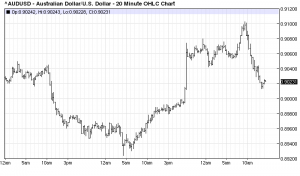 Nor was copper, which is consolidating its break below below the key $3 level: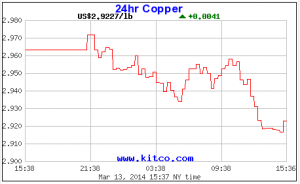 Of course, stocks didn't want a bar of more stimulus either so a mixed night for markets with weak US data out-weighed by weakening Chinese data, aborting the Aussie moon shot.
Related Posts via Categories