Here are the iron ore charts for March 13, 2014: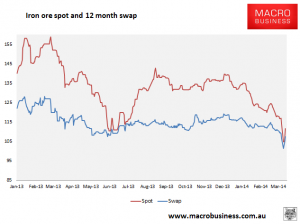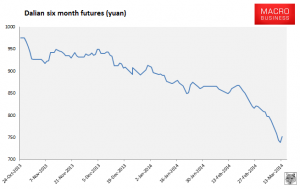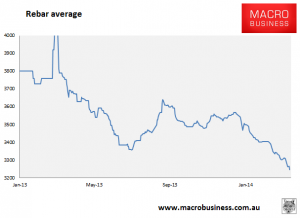 The impressive rebound continues but is it a restock? There is some evidence in favour. From Reuters:
China's steel output has recovered, rising 5.9 percent to 2.08 million tonnes a day in the last eight days of February from the preceding 10-day period, according to the China Iron and Steel Association.

This is also up from the 2.07 million tonnes daily average for 2013, showing that the output is still growing.

Steel inventories remain near record highs, although they have declined recently, dropping 5.9 percent to 16.3 million tonnes at major mills in the last week of February.
Following two months of weakness, a 0.01 per day run rate improvement on last year makes "growing" an overly strong expression. Flat would be more like it. But as we know, mill ore inventories are destocked so demand will filter through to new seaborne trade so long as the port hoard doesn't run down.
The principle source of demand growth, such as it is, is clearly property. From Phat Dragon's decomposition of last night's fixed-asset investment release: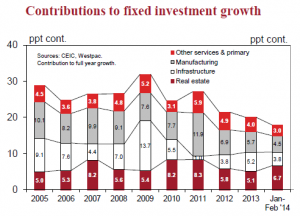 We can expect this to roll on for the first half and then weaken as the construction lag between last year's good property sales catches up to today's declines.
On the port pile, it now seems pretty clear what happened to trigger the panic. From the FT:
Beijing's challenge is laid bare by the failure of Haixin Steel, a privately owned mill in the heart of China's coal country, to repay loans that came due last week. The default, disclosed to the Financial Times by steel traders, could send shockwaves through the local banking and shadow banking sectors.

Partly in response to rumours surrounding Haixin's default, Chinese onshore iron ore spot prices fell more than 10 per cent this week to levels last seen in 2009, helping to trigger steep drops in global markets for the metal, which take their cue from the gargantuan Chinese economy.

Haixin is the largest privately owned steel mill in Shanxi and accounts for 60 per cent of the tax revenues in Wenxi County, home to 400,000 people in China's coal heartland.

Haixin was also the lead investor, together with other local private companies, in Jinshang Investment Guarantee, which backed other companies' debts for a fee. On Thursday, a website describing the credit guarantee company's operations appeared to have been shut down.

Steel traders fear Haixin is deeply entangled in triangular debts with coal suppliers and other local companies and that its inability to pay back loans to state banks could trigger a wave of defaults throughout the region.

On Thursday, employees and the local government said Haixin is still operating, albeit at very low production levels.
And more from another FT investigation:
…according to people familiar with the government's thinking, Mr Li's administration is intent on allowing some high-profile defaults to serve as a warning to China's profligate lenders in both the formal and shadow banking sectors.

…Haixin's problems have been well-flagged. A December report by the banking regulator's local branch warned banks against lending to steel mills that had borrowed from multiple banks. It specifically named Haixin in an unusual public shaming. The Shanxi branch of Agricultural Bank of China ordered the local branch to stop lending to Haixin two years ago. BHP Billiton cut off iron ore supply about 18 months ago.

Haixin has also been repeatedly censured over the years for its environmental practices and that puts it directly in the line of fire in China's newly-declared "war on pollution".

…In 2003, a heavily indebted former classmate and life-long friend killed Haixin's founder, Li Haicang, with a single shot from a sawn-off shotgun, after Li refused to pay the requested amount for land occupied by the classmate's defunct paper mill. His son Li Zhaohui, then 22, cut short his punk hairstyle and began running the business.
Worth saving? Chinese authorities aren't coming to the party with rescues or stimulus (although the yuan has weakened and interbank rates have plunged), which, you would think, would ease pressure on ponzi mills, unless it's because banks don't need money as they pull loans!
My assessment at this stage is that it's too early to call the end to the first battle in China's war on steel. If it is, and Haixin manages through, then there'll be decent iron ore demand (though I still think flat steel production year on year is likely) for a little while as mills rebuild stocks a bit. $120 is a target price that springs to mind.
But it still looks quite possible that we're only drawing breath before hostilities resume.
More broadly, do not take the wrong lesson from this episode, which is what the Australian equity market is doing. China's war on steel has begun and the next battle will be right around the corner. There's no upside to being caught in the cross-fire.
Related Posts via Categories