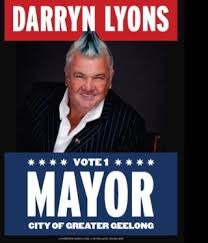 The AFR has fantastic piece today on the future of Geelong, based around a profile of its eccentric new mayor, Darren Lyons:
"You've got to get off your bloody arse, and you've got to go out, and you've got to find it, and you've got to do it yourself. Stop the dependence on society, stop blaming governments and officials. There is work out there, it might be a bit grubby. I've been there and done it myself. I grew up doing it. You know, at the end of the day, stop this whingeing, whining and moaning for pay rises here and pay rises there. The fact of the matter is, sometimes you've got to go back to go forward."

Darryn Lyons – mayor of Geelong, pub owner, ex-war photographer and "Mr Paparazzi" – has been chatting to theAFR Magazine for about 37 minutes when he sets his multi-coloured mohawk bobbing with this impromptu speech. The words tumble out of the stocky entrepreneur's mouth in response to a remark that workers at the doomed Geelong Ford plant want the company not only to pay for their retraining but allow them to do it on company time. Ford wants them to make cars on its clock.

Lyons's words echo the organising principle of a man whose party – the Liberals – only reluctantly embraced him. At another level his words describe his approach to his next project: steering Geelong and its citizens through choppy waters to the rosy future that will be theirs if they just stop whingeing and get off their bloody arses – in a smart, modern way of course.

"You either rise from the ashes or you don't," Lyons says.

The people of Geelong, a busy city of 220,000, located 75 kilometres south-west of Melbourne on the shores of Port Phillip Bay, turned to Lyons last November when the incumbent, Christian teetotaller Keith Fagg, retired because of ill health. The city's business establishment had thrown its weight behind Lyons's opponent, Ken Jarvis. But Lyons's relentless social media campaign – he had more than 900,000 Twitter followers – got under their guard. Lyons has changed the tone in City Hall. Now he's on a crusade to change the city.

Geelong is a city in transition, stranded between its history and its future. Its post-World War II legacy as a stronghold of heavy industry – led by Ford, Alcoa and Shell – is fading fast. A glittering, post-industrial "smart city" future beckons, one long envisaged by city leaders and promoted with renewed vigour by Lyons. It embraces a rapidly expanding Deakin University, a growing healthcare and insurance sector, a housing boom, wine and surf tourism, high-tech firms and – maybe – a large carbon fibre manufacturing plant.
I spend a lot of time in Geelong. My wife is from there. I have many friends there.  Good luck to it and Mr Lyons. But I worry it will take more than a new haircut to sustain its current levels of employment.
Related Posts via Categories