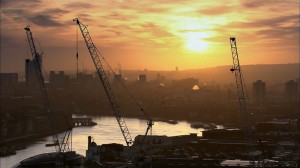 From Joe Hockey this morning via The Australian:
INCOMING treasurer Joe Hockey is looking at innovative capital markets funding to fire up investment in construction and infrastructure and offset any negative effects on economic growth from spending cuts.

In an interview with The Australian, Mr Hockey declared himself "a growth man" and said he didn't accept a direct link between cuts in government spending and economic growth. "I don't accept a simple multiplier," he said.

Mr Hockey said Coalition policy would get the cranes working in cities across the nation.

"There is a big focus on infrastructure," he said. "We need to have cranes over cities, we need to have cranes around the country. And if we can improve the quality of our productive infrastructure we will get the growth going.

"That is a huge part of the growth equation over the next few years."

He alluded to the use of innovative funding models to get infrastructure built under an Abbott government.

…As Mr Hockey sees it, construction will be the next boom sector for Australia under the Abbott government.

But in the short-term, the Coalition's spending cuts are likely to hit growth, just as they did when the Howard government came to office in 1996.

Mr Hockey, however, dismisses such simplistic links, known in economic jargon as the Keynesian multiplier. He said the Coalition's drive for greater efficiency would make spending more effective.

"You have cut the waste. If you cut the waste you get the best productive value out of each dollar of government spending. When you cut waste and reduce bureaucracy they all deliver a better productive output," he said.
All good sense. The Coalition already has a $19 billion lineup of infrastructure projects: $6.7 billion to fix Queensland's Bruce Highway; $1.5 billion start the WestConnex project in Sydney; $405 million for the Sydney F3 to M2 link; $1.5 billion to kick off the East West Link in Melbourne; $1 billion to support the Gateway Motorway upgrade in Brisbane; $615 million for the Swan Valley Bypass on the Perth to Darwin Highway; $686 million to build the Perth Gateway project; $500 million to upgrade Adelaide's North-South Road Corridor; $400 million for the Midland Highway in Tasmania; and $5.6 billion to complete the dual carriageway of the Pacific Highway from Newcastle to Queensland.
All roads, and certainly some pork with all states mysteriously getting a share, but some productivity based stuff too, especially the Melbourne tunnel to unclog its huge port district. This is the danger in Hockey's building plan, that too much will be wasted on pork. IT should be managed with clear input from the Productivity Commission.
My own suggestion was to allocate 1% of GDP to this spend per year for three years to build us over the mining cliff so we're halfway there already.
But, as much as Hockey would like to deny the existence of the Keynesian multiplier, it is real and growth will slow when he cuts back on repeat spending. In fact, there is another dead economist we should add to the mix to understand what cut backs will do to economy in the current environment. Irving Fischer's theories of debt-deflation are for more extreme circumstances but it is a difference in degree not kind:
Assuming, accordingly, that, at some point in time, a state of over-indebtedness exists, this will tend to lead to liquidation, through the alarm either of debtors or creditors or both. Then we may deduce the following chain of consequences in nine links:

Debt liquidation leads to distress selling and to
Contraction of deposit currency, as bank loans are paid off, and to a slowing down of velocity of circulation. This contraction of deposits and of their velocity, precipitated by distress selling, causes
A fall in the level of prices, in other words, a swelling of the dollar. Assuming, as above stated, that this fall of prices is not interfered with by reflation or otherwise, there must be
A still greater fall in the net worths of business, precipitating bankruptcies and
A like fall in profits, which in a "capitalistic," that is, a private-profit society, leads the concerns which are running at a loss to make
A reduction in output, in trade and in employment of labor. These losses, bankruptcies and unemployment, lead to
pessimism and loss of confidence, which in turn lead to
Hoarding and slowing down still more the velocity of circulation.
Complicated disturbances in the rates of interest, in particular, a fall in the nominal, or money, rates and a rise in the real, or commodity, rates of interest.
I'm sure we all recognise these dynamics (albeit more mild) at work in the Australian economy and it has a very long way to run. Australia is different as we know, and very much prefers the fictional rhetoric of exceptionalism (or its politicians do) but clearly Hockey already understands such  process is underway or why would he be building at all?
Meanwhile, the cuts will flow it seems. From the AFR:
The chairman of John Howard and Jeff Kennett's audit commissions, Bob Officer, has urged the incoming Abbott government to follow Queensland's example and cut thousands of inefficient jobs from education and health bureaucracies in its first term.

One of Treasurer-elect Joe Hockey's first decisions in office will be to establish a commission of audit charged with finding savings across federal agencies.

Mr Hockey wants the commission to deliver an interim report with recommendations in time for his first budget.

Professor Officer said the new government should act quickly on the audit's findings and avoid the more ­cautious reform path adopted by NSW Premier Barry O'Farrell, a message that will be welcomed by some Liberal MPs who want the government to copy the unpopular cuts that Mr Howard made in 1996 to return the budget to surplus.

"The earlier you start, the greater the benefits – particularly for a government potentially facing a second term," ­Professor Officer said.

Asked whether he thought Mr Hockey would drive hard enough for cuts and reform, he said: "I suspect not. I'm an economist – I believe you should be doing these things harder."
An economist reading the wrong stuff. I support cuts to wasted repeat spending on middle class welfare and targeting efficiency. But this economy is not the same as that confronting Kennett or Howard. It's far more indebted and fragile than both.
Related Posts via Categories