Just for a late week surprise some meaty moves to close trade. Gold is getting walloped:
The Aussie is weakening: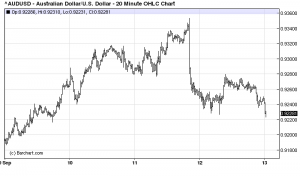 And the US dollar is strong: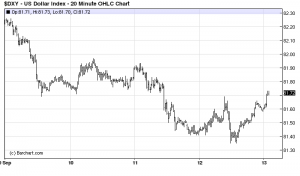 The culprit? This from Nikkei:
The dollar is rising against the yen, trading to around 99.80 yen shortly after 14:15 p.m. following a Nikkei online report that U.S. President Barack Obama is set to name former Treasury Secretary Lawrence Summers as the next chairman of the Federal Reserve Board. Summers would replace Ben Bernanke, whose tenure expires in January.
And now, more from WSJ.
Summers is seen as more hawkish and more likely to remove QE more quickly than other candidates, though he will face some problems, quite rightly, getting through Congress:
As National Economic Council director during Obama's first term, Summers was part of the administration's team that helped craft a more than $800 billion fiscal package of spending and tax cuts to boost the economy.

…Summers' actions as Obama's top economic adviser, as well as his role in easing banking rules and opposing derivative regulations when he was Treasury secretary in the 1990s, have come back to haunt him, as have comments he made when president of Harvard University that suggested a lack of aptitude might explain why so few women held top engineering and science jobs.

Now, progressive and women's groups are actively campaigning to prevent him from becoming Fed chairman.

Heidi Hartmann, president of the Institute for Women's Policy Research, has spearheaded a letter to Obama urging him to choose Yellen.

The letter, which she began circulating Sunday night and expects to send to Obama next week, has been signed by more than 400 economists, including former Fed vice chairs Alan Blinder and Alice Rivlin, former Obama adviser Christina Romer, and leading academics Jeffrey Sachs and Joseph Stiglitz.
Summers is one of the three great regulatory villains of the GFC, the other two being Alan Greenspan and Robert Rubin. He is quite the survivor.
Related Posts via Categories