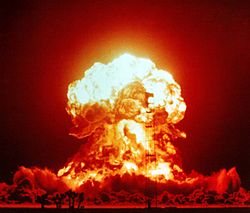 The AFR has followed up with another round of Chris Joye doomsaying. The story kicked off with some quotes from Shane Oliver:
AMP Capital chief economist Shane Oliver said while there was a greater risk of a housing bubble, chances were still slim, as both borrowers and lenders were cautious of over-gearing.

"The GFC reminded everyone that prices can fall as well as rise, Australians had blind confidence in the past that house prices could only rise, then everyone became aware of what happened to prices in the UK, US, Spain and Ireland," he said.

Mr Oliver did not think ongoing price growth in the double-digits was likely, instead, he expected the RBA to increase interest rates by mid-2014, which will put a lid on runaway growth.

He also argued that credit growth rates simply would not allow for the growth needed to fuel a bubble.
That's my base case too. But taking the risk is bonkers and that is where Chris Joye is absolutely spot on:
Fund manager and Australian Financial Review columnist Christopher Joye warns the banks have every commercial incentive to provoke credit rise.

"They are a very powerful lobby," he said.

"I do not believe that the market characteristics are currently bubble-like, but they could quickly become so."

Mr Joye said that unless there was pre-emptive action to mitigate a bubble with macro prudential tools and higher rates, there could be a massive housing downturn.

He expected robust house appreciation to continue as long as rates remain low, and said it was concerning Sydney's price growth had reached a double-digit pace.

"Very strong capital gains would start to put the Australian housing market into serious bubble territory," he said.

If the market was allowed to run into those conditions, Mr Joye said it would prompt the most serious housing crash in 75 years.
Bravo and correct. As I explained several weeks ago, hiking rates into the mining cliff would unleash Hell. Macroprudential now!
Related Posts via Categories