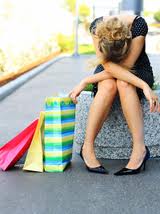 From The Australian:
ELECTRONICS retailer JB Hi-Fi has renewed hope of a turnaround in consumer spending, upgrading profit forecasts in a move that underscored the Reserve Bank's decision last week to leave interest rates on hold after 125 basis points of easing over the past nine months…it was the forecast of continued growth in the second half of the financial year that got investors' pulses racing, as chief executive Terry Smart revealed sales growth had accelerated to 11.7 per cent in January and forecast a return to net profit growth for the full financial year.
Last year Macro Investor suggested climbing aboard the retail recovery on a hair trigger. There was little point fighting the RBA at that early stage . Now, everybody wants a slice.
Below is the MSCI Consumer Discretionary Index for the ASX:
And over the longer term there is room to move:
On the other hand, the MSCI Consumer Staples Index has already twirled into freedom:
The macro data supports the split, with growth in retail sales for food categories far outstripping discretionary (red is food and green is eating out):
The yellow line is household goods, the big one for JB HiFi and discretionary consumption in general. It enjoyed a spike last year with the carbon tax rebate but otherwise remains quite unconvincing.
In my view it will take resurgent house prices to drive sales out of their funk. So, if that's your view then discretionary is still a decent buy. I remain doubtful but for now the stock market is discounting the prospect.
If we zoom out a little further, however, general retail sales do not support the current rally. Here are gross sales, which have just slid for the three months for the first time since the GFC:
No doubt January will turn this around. But volume growth still sucks and the big picture is a down trend with a possible bottom:
At the macro level retail sales are growing in line with real net income disposable growth: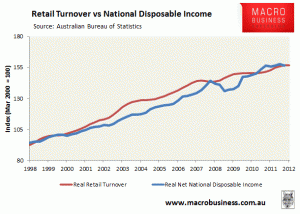 But this is also the risk for retail. If the non-mining economy does not accelerate enough to offset declining mining investment from mid-year or so onward then income growth will stall and so will retail, especially discretionary.
Related Posts via Categories