I have been at this point in the credit and economic cycle many times in my career and certain things always seem familiar. First the inversion of the yield curve, which is dismissed as a predictor of recession, despite its reliability. Then slightly later, as the economic data slows decidedly, the chorus of economists claiming the Fed can pull off a soft landing – which is more often the triumph of hope over actual experience.
 I recently had the pleasure of presenting at John Mauldin's Strategic Investment Conference. I seldom present at non-SG events, but John had been asking me to appear for well over a decade, so I thought it was time to weigh in. I had what is called a 'fireside chat' with the excellent Grant Williams of Things That Make You Go Hmmm… fame. Incidentally we will be doing the same style chat, in person at the London stock Exchange for the SG Derivatives and Quant Conference on Thursday 13 October (at 3pm London time). But one of the joys of speaking at these outside events is that I get to hear all the other speakers – and on the day I began the proceedings, it was Dr Henry Kissinger himself who brought them to a close.
 John Mauldin has spent the past few weeks writing up the key thoughts of some of these most interesting speakers – and emails them out on his free weekly email letter, Thoughts from the Frontline. Of all the many top-notch speakers, Bill White, former Chief Economist at the BIS at the time of the 2008 Global Financial Crisis, is a particular favourite. He was one of the few economists working for 'government' who warned loud and clear in 2006 what was about to unfold. And unusually for economists he was right for the right reasons.
 You can read a summary of Bill's thoughts on John Mauldin's website here, but this one line particularly stands out for me: "My real worry on the downside is that the fragilities are so great at the moment that even a moderate degree of tightening could spark a downturn of such a magnitude that even if the Fed does back off, there will not be much that can be done about it, and so it will have a downward momentum… that we won't be able to handle."
 With some notable exceptions (like the May payrolls), US economic data has disappointed. One data item though that did get economists excited this week was the continued explosion in US Consumer Credit – which the optimists see as underlining the great health of the US consumer. I look at this chart and all I can see is Edvard Munch's 'The Scream'!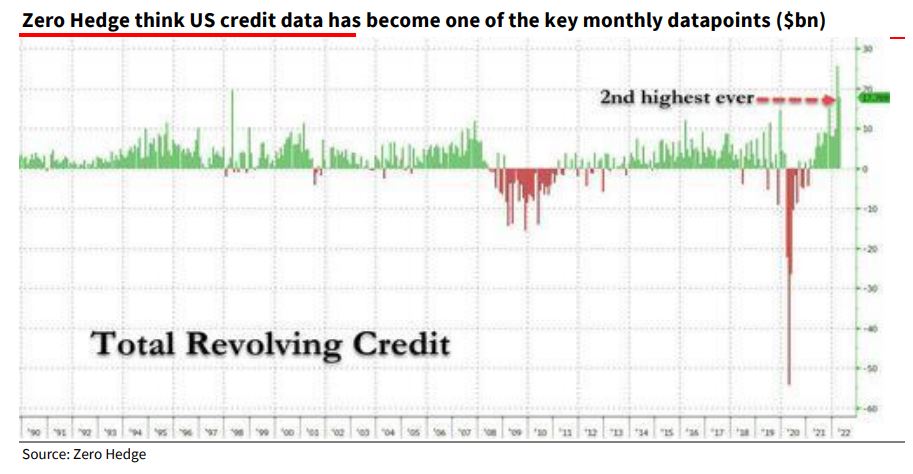 Revolving consumer credit is even growing at close to a record pace when looked at on a % yoy basis (see chart below). Is this a sign of consumer health – or rather a consumer screaming out in end-of-cycle pain as their incomes are crushed by the cost of living crisis? For my recollection is that desperate consumers often turn to this expensive form of debt at the end of the economic cycle, just ahead of the recession (see downward pointing arrows before shaded recessions).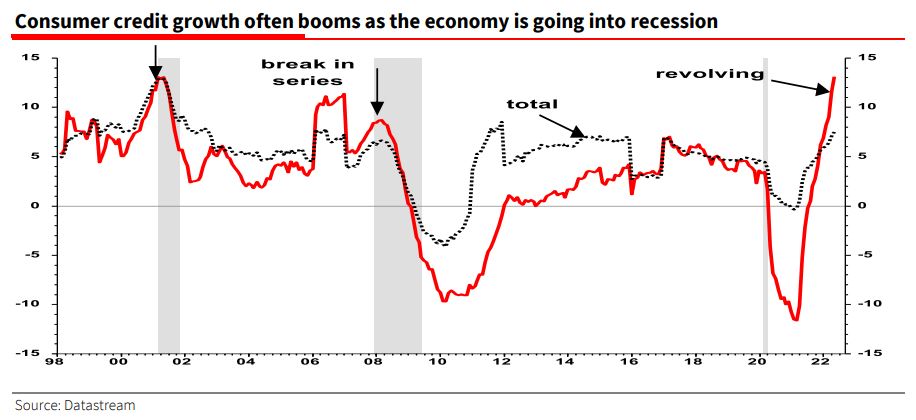 And why shouldn't the consumer be stressed when their spending power has been crushed and totally detached from the previous rate of trend growth?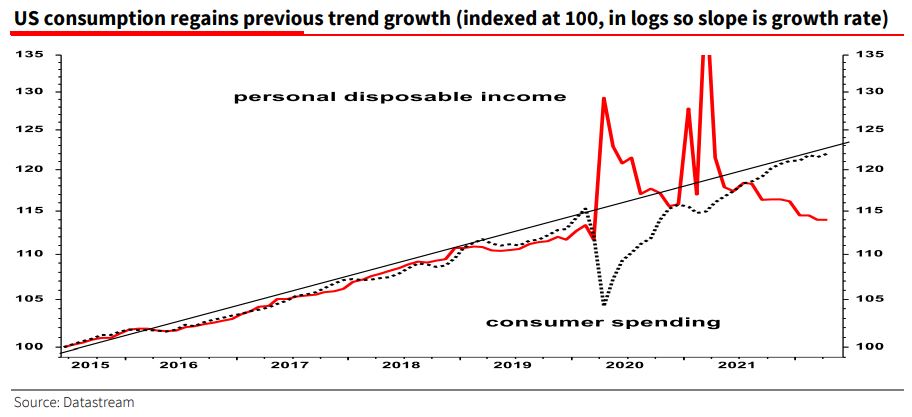 Optimism over the Fed's chance of achieving a soft landing was given a considerable boost recently in a paper from a former Deputy Chair of the Fed, Alan Blinder, now a Professor at Princeton. On his analysis he claims that in recent times Fed tightening cycles have not been the primary cause of recession, so the odds of them achieving a soft landing are pretty good.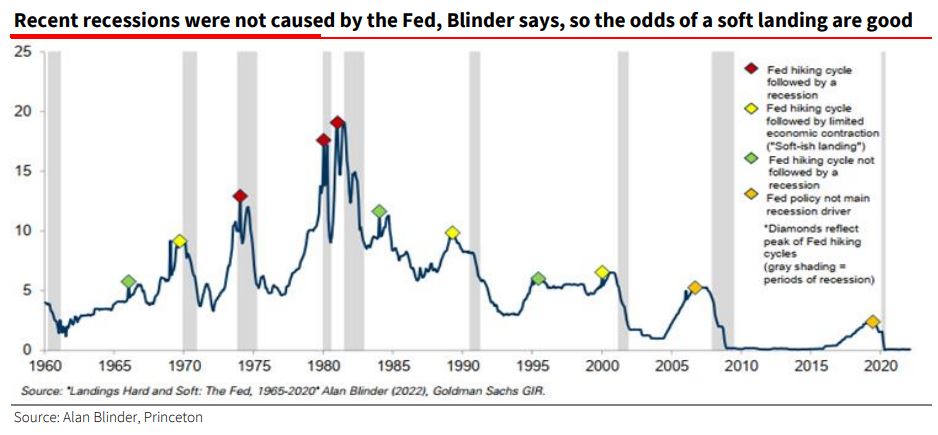 Bloomberg's John Authers, in a comment on Blinder's thesis said – and I paraphrase – that although technically it could be claimed that the tightening cycle ahead of the 2008 GFC did not cause the recession, the too gradual tightening allowed the build-up of massive leverage and even if a more aggressive tightening had caused a recession earlier, that would have been preferable. Exactly the same could be said of the excess euphoria ahead of the 2001 recession.
Personally, I cannot conceive of anyone not believing that the Fed tightening cycle did not pop the housing bubble in 2006, so directly leading to the GFC in 2008. For me the causality is direct and obvious, and Blinder's research is just a deflection from a former Fed bigwig.
Dissent is rare at the Fed and in the same round table discussion as Bill White, the ex-Kansas Fed Governor and multiple dissenter, Tom Hoenig also spoke. He was constantly in a minority of one for voting against the 2010 QE experiment. At the round table event, Hoenig stated his belief that "There is no soft landing when you're this far out of equilibrium" – the title of this weekly.
Hoenig was spot on about the reasons for his dissent against QE back in 2010. Politico wrote in December last year, "He was concerned about inflation, that isn't what solely what drove him to lodge his string of dissents. The historical record shows that Hoenig was worried primarily that the Fed was taking a risky path that would deepen income inequality, stoke dangerous asset bubbles, and enrich the biggest banks over everyone else. He also warned that it would suck the Fed into a money-printing quagmire that the central bank would not be able to escape without destabilizing the entire financial system. On all of these points, Hoenig was correct. And on all of these points, he was ignored. We are now living in a world that Hoenig warned about."
I believe this fragile financial and economic world that Messrs White and Hoenig describe is simply not one that can withstand even moderate Fed tightening. Despite still robust payroll data, the Atlanta Fed Nowcast for Q2 GDP has just slipped below 1%, following on from the contraction of 1.5% in Q1. A totally stagnant H1 does not fill me with optimism. What about you?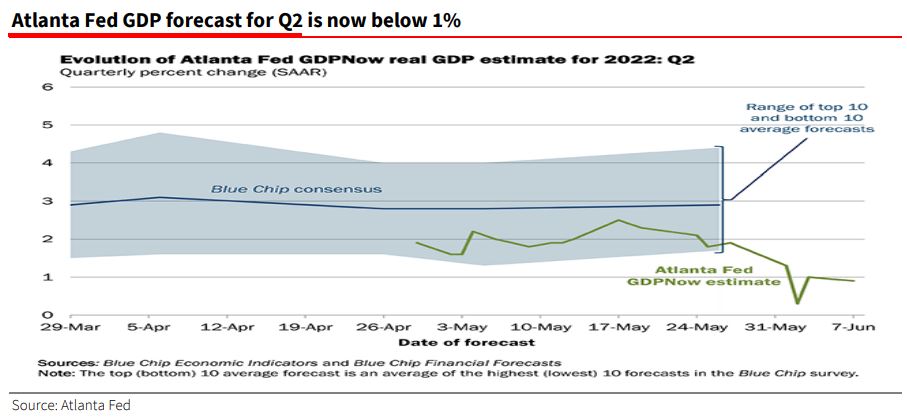 If we are going into recession keep one eye on any rise in unemployment. Richard Hoenig says the Fed will back off tightening if the unemployment rate gets to 5%. I think a recession and a Fed U-turn will come long before that. A couple of years back a Fed economist, Claudia Sahm suggested a new measure to check for the onset of recession, based on the observation that when the 3-month average unemployment rate rises a half percentage point above the low of the prior 12 months, the economy is in recession, or is about to be.
The US unemployment rate has now bottomed for the last three months at 3.6%. If the "Sahm Rule" holds, any three-month rise above 4% should be ringing very loud alarm bells that a recession is not months away. It has already arrived!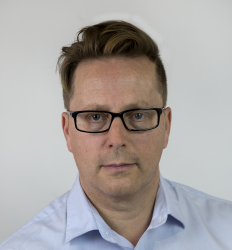 Latest posts by Houses and Holes
(see all)