by Chris Becker
With chaos comes opportunity and with the wheels falling off the Trump administration and central banks hell-bent on getting back to "normalcy", not just the gold bugs are calling for a return to the shiny metal.
Beyond the macro risks are the technical factors that will indicate a breakout in gold. A potential level to watch is $1300USD per ounce: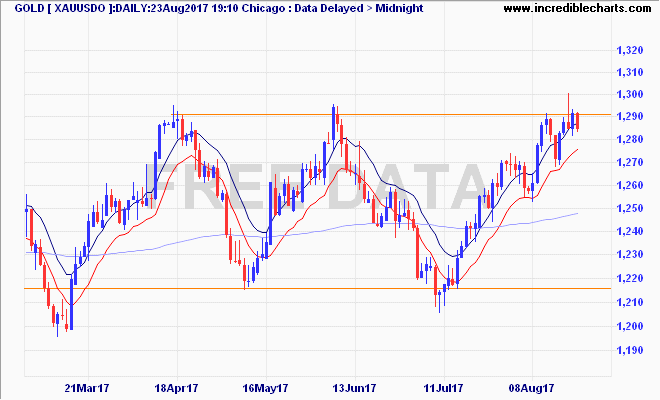 Even the novice technical analyst can see that a thrice hit upside target since the start of the year has some anchoring reasons behind it.
UBS agree its both psychologically important and a positioning factor. More from Forexlive:
The impact of geopolitical risks on gold prices is difficult to anticipate and generally tends to be quite volatile and headline-driven.

Nevertheless, that the downside in gold has been relatively contained despite fluctuations in risk appetite over the past few weeks suggests that there's an underlying appetite to hold gold as a safe haven and a hedge against potential tail risks.
positioning in gold has increased considerably as of 15 August
Net longs added nearly 4moz, bringing speculative positions to 20.04moz. Gains were mainly due to gross longs extending positons – the relatively sizeable increase in the past week presents some near-term risks and somehow raises the threshold for a convincing topside break.
Net long positions in silver, platinum and palladium similarly gained sizeably, but unlike gold these gains were mostly driven by short-covering.
Let's take a longer look using the weekly chart: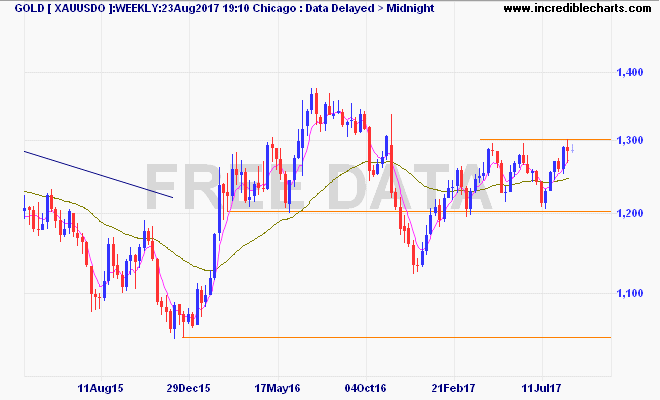 We can see that since lat 2015, gold recovered from its bear market and tried to push through $1300 back in 2016, had a correction below $1200 and has now been ranging since the start of the year.
For even longer context, consider the monthly chart: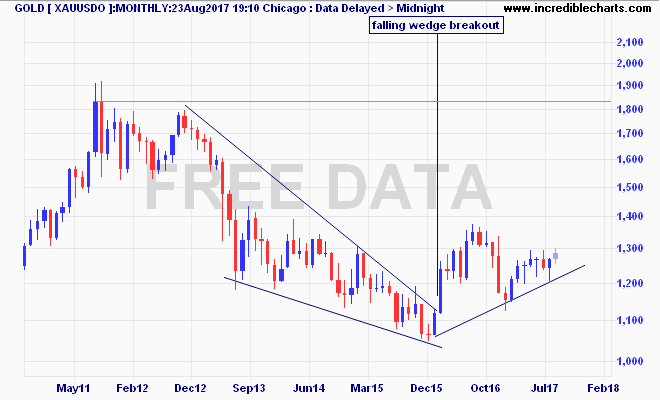 What presaged this was a large bear market where gold dropped from nearly $2000USD per ounce to just over $1000 in a classic falling wedge pattern. This provides the upside target – right back to $1800 on any weekly breakout above $1300.
For Australian holders that level matters even more, because priced in AUD, gold has never been in a bear market, oscillating between $1300 and $1700AUD per ounce since 2012: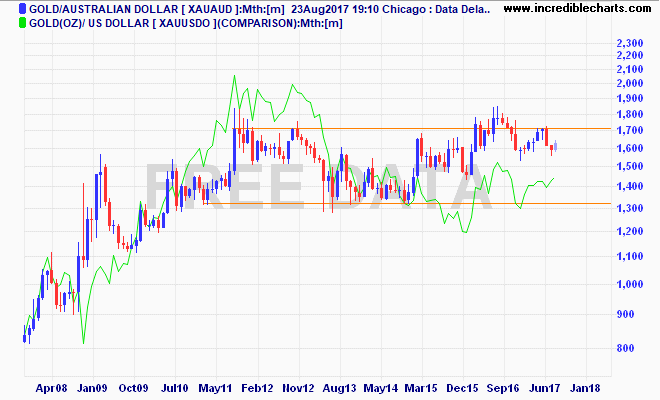 Gold looks to be an excellent short and medium term opportunity to say the least!
Latest posts by Chris Becker
(see all)