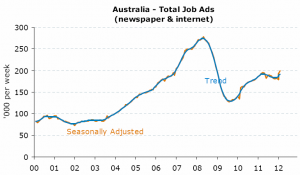 ANZ job ads are out and have confirmed the January bounce with more in February:
The number of job advertisements on the internet and in newspapers rose 3.3% m/m in February, following an upwardly revised 7.5% rise in January. Total job advertisements were 3.6% higher than in February 2011. The number of seasonally adjusted job advertisements is now at the highest level since November 2008.

The rise in job advertising was driven by a 3.8% rise in internet job advertisements to a level 4.9% higher than a year ago.

Newspaper job ads fell 8.6% m/m in February, to be 22.3% below levels from one year ago. While job advertisements fell across all states and territories, the largest falls were recorded in New South Wales (-15.1% m/m), Queensland (-8.2% m/m) and Tasmania

In trend terms, total job ads rose by 1.7% m/m in February to be 0.4% higher than a year earlier. Trend growth in job advertising has now been positive since November. If this trend is sustained, it casts some considerable doubt on the need for significant further easing by the RBA.
It does indeed, and there will be no rate cut tomorrow, that's for sure. Which means more "adjustment" ahead:
ANZ Chief Economist Warren Hogan said:

• Job advertising has increased strongly in both January and February indicating a clear pick-up in hiring intentions across the Australian economy in early 2012. Total job ads are now 3.6% above the level of a year ago and 10% higher than what now appears to be the cyclical low point in October 2011.

• Within the total, newspaper advertising fell sharply in February in seasonally adjusted terms. Newspaper job ads fell 8.6% in February following a 3.1% decline in January. Compared to a year ago newspaper job advertising is 22.3% lower. The strength is in internet advertising, having risen 3.8% in February to be 4.9% higher than a year ago.

• It appears clear from the data that total job advertising in Australia troughed in late 2011 and is picking up strongly in early 2012. If these hiring intentions are converted into actual jobs then it appears that the Australian labour market is in for a gradual improvement over the course of 2012. This greatly reduces the chances of a material rise in the unemployment rate over the year ahead. We are confident that the unemployment rate will track sideways between 5% and 5.5% for much of 2012.

• The data supports the view that mining, energy and infrastructure investments are driving overall job creation in Australia. This is reinforcing the assessment that the 'two-speed' or 'patchwork' economy is back in full force in 2012 following a general softening in all job advertising in 2011.

• While the economic forces at work across Australia remain complex, these figures suggest that the economy is well placed from a general cyclical point of view. Strong capital expenditure intentions and rising job advertising suggests that the chance of further interest rate reductions from the RBA are much reduced. Improving sentiment in global financial markets and rising commodity prices reinforce this view.

• In recent months there has been a significant divergence in job advertising trends on the internet and in newspapers; much more than usual. While we believe the technological factors driving the trend towards job advertising on the internet will continue gradually over the years ahead, there may be reasons to believe that current economic conditions in Australia are hastening this divergence. Most of the job creation in Australia is coming from mining, energy and infrastructure related activity.

We believe these types of jobs are more likely to be advertised on the internet as these employers are appealing to a national labour market. The ANZ newspaper advertisements series is more likely to be skewed towards the services sector in the major cities.

• Breakdowns for job advertising by state can only be done with newspaper ads so we highlight that some caution needs to be used interpreting these figures. Over the past six months the so-called mining states of Queensland, Western Australia and the Northern Territory have seen newspaper ads remain broadly unchanged compared to an Australia-wide fall of about 10%. Newspaper job advertising in NSW and Victoria has fallen by around 15% over the same period. The good news is that this adds to recent evidence of a continuing strong recovery in the Queensland economy. Unfortunately, these figures cast a cloud over the outlook for NSW and Victoria.
Buy your childrean hard hats.