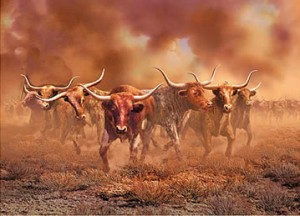 The Reserve Bank of the CBA has joined the fray, hiking 0.1%:
The Commonwealth Bank today announced it will increase interest rates for its variable rate home loan accounts by 0.10 per cent per annum and for its six month Term Deposit account by 0.20 per cent.  The change in home loan interest rates reflect a sustained increase in both wholesale and deposit funding costs.

The increase in Variable Rate home loans of 0.10 per cent per annum takes the Standard Variable Home Loan interest rate to 7.41 per cent per annum.  The changes to both deposit and lending accounts will be effective from Monday 20 February 2012.

As reported in the February Reserve Bank of Australia Statement on Monetary Policy, "Bank funding costs have increased relative to the cash rate over the past six months.  In particular, there have been increases in the spreads of term deposits due to competition for deposit funding, an increase in the compensation required by investors globally for bank credit risk and an increase in the cost of foreign exchange hedging".

This position is likely to be exacerbated given the increased uncertainty emanating from Europe.

Ross McEwan, Group Executive Retail Banking Services said, "In making this decision, we have been cognisant of our total funding costs, of which the Official Cash Rate is only one factor.  The Commonwealth Bank believes Australian banks should continue to price sensibly, taking into account factors both on and offshore, rather than experience similar problems to those that many banks overseas have experienced".

"We also believe that we need to balance the needs of all of our customers by providing competitive pricing across all products.  Whilst we understand that any increase in interest rates is not favourable to borrowers, our millions of deposit customers are favoured and since the commencement of the GFC we have seen significant competition in retail deposits pricing.  There is always a requirement to consider all customer groups, whilst at the same time also balancing the needs of shareholders, including 800,000 Australians who own shares directly and millions more who hold our shares through their superannuation funds and rely on our returns.

"We have provided a strong sustainable and diverse business for Australians for 100 years and we will continue to support our customers, people, shareholders and the community tomorrow and into the future," he added.