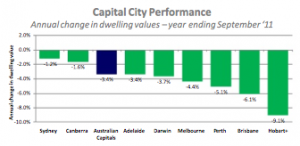 Find below R.P.Data's quarterly newsletter which came with their latest update along with this tantalizing tid bit:
The RP Data-Rismark Home Value Index results for October 2011 will be released on Wednesday of next week. The results, which will reflect market conditions pre-rate drop, are likely to see a continuation in the weak trend that has been evident since the start of the year, however recent months have seen value declines levelling. In October, consumer confidence was still low, together with a high volume of stock available for sale, low auction clearance rates and interest rates at an above average level which suggests more of the same conditions. Given that October was the last month in which official interest rates were at 4.75% before the 25 basis point cut in November, the next few months of data will be interesting to analyse to see if volumes or values show any improvement.
Front running their own data with some pre-gloom. Looks like it might be a rough number.