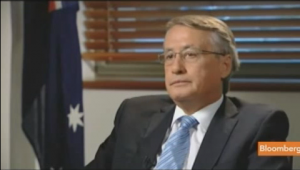 Find below footage of Wayne Swan speaking with Bloomberg this afternoon. His responses include deeply contradictory commitments to a diversified economy and an Australian dollar free to appreciate for ever. Apparently he "would never want to see our economy become too excessively dependent upon one country or one commodity"!?!
David Llewellyn-Smith is Chief Strategist at the MB Fund and MB Super. David is the founding publisher and editor of MacroBusiness and was the founding publisher and global economy editor of The Diplomat, the Asia Pacific's leading geo-politics and economics portal.

He is also a former gold trader and economic commentator at The Sydney Morning Herald, The Age, the ABC and Business Spectator. He is the co-author of The Great Crash of 2008 with Ross Garnaut and was the editor of the second Garnaut Climate Change Review.
Latest posts by David Llewellyn-Smith (see all)