Since April 2010, NAB has been conducting the Quarterly Australian Property Survey:
…with the aim of developing Australia's pre-eminent survey of market conditions in the Commercial and Residential Property market. The large external panel of respondents comprised of Real Estate Agents/Managers, Property Developers, Owners/Investors, Asset/Fund Managers and Valuers.
Here is the split of the surveyed: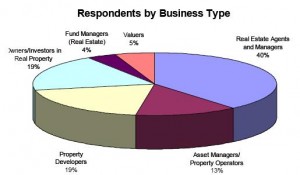 To my mind this is a more useful set of respondents for gauging industry conditions than it is price expectations. The property sector is famously optimistic so it looks like NAB has built in a selection bias to me.
Nonetheless, the results this quarter are downbeat:
The NAB Residential Property Index moved deeper into negative territory in the September quarter reflecting further moderation in house prices and rental growth. National house prices are expected to continue falling over the next 12 months, dragged down by Victoria and Queensland.

The NAB Residential Property Index fell to -14 points in September (-5 points in June). However, the index conceals considerable variation among the states, with conditions identified as being much weaker in Queensland, Victoria and SA/NT. NSW and WA bucked the national trend and managed to produce small index gains. Forward expectations have also weakened relative to our last survey with the national indexexpected to be softer on the back of weaker house price expectations in Victoria and a more subdued outlook for rents in all states, bar NSW.
The pace of national house price decline accelerated to -2.4% in September (-2% in June), with Victoria recording the biggest fall (-3.8%). National house prices are expected to fall by -1% over the next 12 months. Modest house price growth is expected to resume in NSW (0.1%), SA/NT (0.3%) and WA (1.5%), but the national average will be dragged down by a significant downward revision in house price expectations in Victoria (-3.2%) and continued weakness in Queensland (-1.7%). National house prices are expected to recover by September 2013, with modest growth of 0.5%. WA is expected to significantly out-perform (3.4%) the national average, while Victoria is the only state expected to record negative price growth (-2.1%).
Gross rental yields increased in the September quarter as the contraction in house prices was offset by positive rental growth. Nationwide house rents increased by 0.7% in September (1.3% in June), with rental growth slowing in all states bar NSW. Forward rental expectations also weakened, with the latest survey pointing to rental growth of just 2.5% over the next year (3.1% in June), despite an upward revision for rental expectations in NSW to 4.8% (3.6% in June). Over the next two years, nationwide rents are expected to increase by 4% (4.4% in June), led by NSW (6%) and WA (5.3%).
Owner occupiers are playing a bigger role in underpinning demand for housing – particularly in new property markets – as investors begin to shy away in a more difficult economic climate. Demand for housing remains strongest in inner city locations, with capital growth prospects strongest in sub-$500,000 markets. House buyers are now citing tight credit conditions, construction costs and employment security as the biggest impediments to purchasing property. Concerns over interest rates are still significant, but have fallen somewhat as the previous tightening bias reduces.
The following chart in particular caught my eye: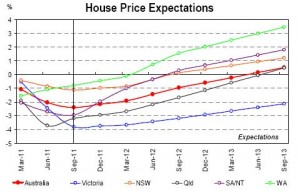 Looks like the Victorians are leading the nation to reality. Full report below:
Residential Property Survey _September 2011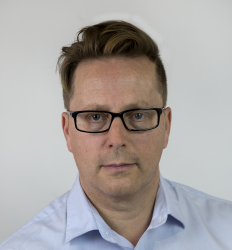 Latest posts by David Llewellyn-Smith
(see all)