The ABARE quarterly update of commodity prices for the year ahead is out today. First, the key macroeconomic assumptions: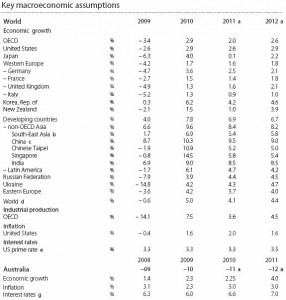 One word pretty much covers it: Up. The big gains in iron ore and coal are not as aggressive as they appear. For iron ore, the growth in large part arises from a full year of contract prices around current levels. For coal, it's the same, but without a big dent arising from floods.
Even so, in my view, without some new round of US stimulus, we will not hit these projections.
David Llewellyn-Smith is Chief Strategist at the MB Fund and MB Super. David is the founding publisher and editor of MacroBusiness and was the fouding publisher and global economy editor of The Diplomat, the Asia Pacific's leading geo-politics and economics portal.

He is also a former gold trader and economic commentator at The Sydney Morning Herald, The Age, the ABC and Business Spectator. He is the co-author of The Great Crash of 2008 with Ross Garnaut and was the editor of the second Garnaut Climate Change Review.
Latest posts by Houses and Holes (see all)