Today AIG PMI  shows manufacturing still in recession in April. However, there is a the hint of a trend change in both the the headline index and its internal measures.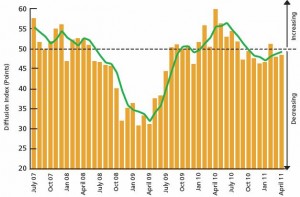 It is slow progress and nobody should be breaking out the champagne, expecially since the dollar has not stopped rising but there is slow progress towards expansion. That progress is confirmed in actual output, which is now expanding,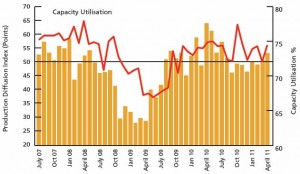 Ironically, this will not be good news for the RBA, which has explicitly placed manufacturing on the chopping block for the Australian rebalancing toward commodity production. Other findings from the report are below.
Key Findings

■ Manufacturing activity remained in negative territory in Aprilwith the seasonally adjusted Australian Industry Group-PwC

Australian PMI® rising 0.5 points to 48.4 to remain below the50-point level separating expansion from contraction.

■ The manufacturing sector was weighed down by significantcontractions in the transport equipment; textiles; andmiscellaneous manufactures sub-sectors, and, to a smallerextent, by the wood products & furniture; paper, printing & publishing; fabricated metals; and food & beverages sub-sectors.

■ Survey respondents cited soft domestic demand, the strongAustralian dollar and increased import competition as factors inhibiting the manufacturing sector.

■ Wages and input costs continued rising in April, while selling prices dipped, suggesting that manufacturing profit margins continued to narrow.

■ Manufacturing activity contracted in Victoria, Queensland and Western Australia, but expanded in the other states.

SECTORS

■ Seasonally adjusted, seven out of the 12 manufacturing sub-sectors recorded declines in activity in April, unchanged from March. The expansions in activity in the other five sub-sectors, which was led by the machinery & equipment and construction materials sub-sectors, failed to lift overall manufacturing activity.

■ The decline in activity was especially pronounced in the transport equipment; textiles; and miscellaneous manufactures sub-sectors, due to the strong Australian dollar, soft domestic demand and cheaper imports.

Production and Capacity

■ Seasonally adjusted, the production sub-index rose 2.4 points to 53.3, indicating that manufacturing output expanded in April.

■ The increase in manufacturing output was led by expansions in production in the clothing & footwear; basic metals; and machinery & equipment sub-sectors.

■ The strong lift in production in these sub-sectors was partly offset by significant decreases in output in the transport equipment; textiles; and paper, printing and publishing sub-sectors.

■ On an unadjusted basis, the number of sub-sectors reporting declines in production rose to eight in April, up from seven in March.

■ Overall, capacity utilisation rose in April, by 2.3 percentage points to 74.4%, largely reflecting the increase in capacity utilisation in the miscellaneous manufactures and food & beverages sub-sectors.