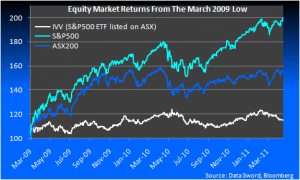 Exporters and import competing businesses are both suffering at the moment under the weight of the Aussie's massive rise since the beginning of QE2.
But this got me thinking about our collective superannuation and where it is invested.
All Australians contribute to superannuation and while some manage their own, for the most part super is allocated to what's known as "balanced" portfolios. This means that your super will have some cash, fixed income, international fixed income, property, Australian shares and international shares.  It is the international component of these portfolio's that got me thinking.
Below is a chart of the S&P 500 in the US, the ASX200 here in Australia and an on ETF listed on the ASX which allows for an investment into US shares but, crucially, unhedged for currency movements. While we see that the ASX200 has lagged the S&P's returns since the low in March 2009 the ETF has had a severe AUD handbrake applied. It's not in negative territory but neither has it had a spectacular return, relative to the other measures here, underperforming badly.
The message here is not to panic but equally when the super returns come through the door keep a close eye on your returns and asset allocation. It would be easy to think that the surging US markets would be more than enough to make up for the poor performance at home. However if the US exposure is un-hedged then the soaring AUD will be eating away at those returns.
An un-hedged exposure to the S&P500 is up roughly 15% from the March 2009 low against the actually performance of the S&P500 which is up more than 100%. Meanwhile the ASX200 is only up 55%.