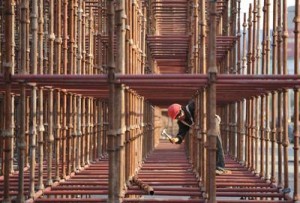 From the ANU's East Asia Forum comes this sobering assessment of the challenges facing the Chinese economy:
China recently wrapped up the National People's Congress (NPC) and Chinese People's Political Consultation Conference (CPPCC) with the approval of the 12th Five Year Plan (FYP) (2011-2015).

At the top of the new blueprint is a commitment to transforming China's development model from the current low-efficiency, high-growth model to a more balanced model that seeks to address a whole range of increasingly important concerns. The targets of the new model include economic growth, structural adjustment, social services development, carbon mitigation and environmental protection, and transparency and governance reforms.

Calls for the transformation of China's economic development model are not new. Since the early 1980s, China has been aiming to improve efficiency, and move from a GDP-oriented, export-oriented model of growth to a 'well-being'-oriented, home market-oriented, low carbon model. This time the call has different implications.

In the past, calls for a new development model were for marginal improvement of the model. This time, there are two deeper motivations. The first is to avoid potential economic crisis, and the second is to help China reach its ambitious carbon reduction targets. Behind China's average 9.8 per cent GDP growth lie a host of issues that have the potential to lead to serious problems in the future.

New economic risks and imbalances are emerging beneath the surface of China's high growth economy. Trade surpluses have resulted in huge foreign reserves, excess liquidity, high inflation pressure, and bubbles in the capital and property markets. High GDP growth has not brought about a proportionate increase in human well-being across society, and public services are facing supply bottlenecks. Regulation and monopolies have unbalanced industry, and while there is an oversupply in the manufacturing industry, there is a shortage of service sector providers, particularly in medicine, education, finance, and banking. Finally, there is now a huge and growing level of risk associated with government debt, particularly local government debt.

If these issues are not dealt with properly, they may lead to real crisis in two ways. First, the risks associated with these issues may simply accumulate until they are untenable. Second, if growth slows down — likely to happen as China's industrialisation cycle ends — the problems that are now hidden will be plain for all to see.

Rapid growth has also brought about rapid environmental degradation, a fact that makes China's shift to a low carbon economy increasingly imperative.

China must achieve two transformations. First, it must take the economically and socially 'balanced' model of high-income Western societies as a benchmark. But this is not enough. All countries, including China, need to initiate low-carbon growth, both to lower emissions and to deal with fossil fuel depletion. The 12th Five Year Plan has set a target for reduction in carbon intensity by 17 per cent, and an increase in the share in consumption of renewable energy options. This is in the broader context of China's 2020 goal of reducing carbon emissions by 40–45 per cent.

China sports distinct advantages in the move to a low carbon growth model. The transition cost will be lower for China than for advanced economies, as it is not locked into a high carbon model to the same extent. It also does not face a competitive disadvantage relative to advanced economies in 'green' industries. Green technology levels are relatively similar in the developed and developing worlds. China has a dynamic economy, and it has the opportunity to continue to feed growth with new renewable energy industries.

In his report on the NPC and CPCC, Premier Wen Jiabao urged the government to 'comprehensively deepen the reforms and open up,' and 'to further enhance the governmental reform.' In the past, calls to transform China's development model have been unsuccessful as there has never been an attempt to enforce these calls to action. Now, there is real impetus for change. The potential crises hidden in the current development model are being more widely recognised.

If these challenges are responded to properly, then China may be able to achieve even higher growth in the future. China still has a long way to go to catch up to the Western world in terms of per capita GDP. China needs this transformation to be successful for it to continue to grow and deliver higher levels of welfare to its people. Thus, the 12th Five Year Plan is not just a domestic issue; it is an issue for the rest of the world as well.

Yongsheng Zhang is Senior Research Fellow at the Development Research Center of the State Council (DRC), PRC and Professor of Renmin University of China.
David Llewellyn-Smith is Chief Strategist at the MB Fund and MB Super. David is the founding publisher and editor of MacroBusiness and was the founding publisher and global economy editor of The Diplomat, the Asia Pacific's leading geo-politics and economics portal.

He is also a former gold trader and economic commentator at The Sydney Morning Herald, The Age, the ABC and Business Spectator. He is the co-author of The Great Crash of 2008 with Ross Garnaut and was the editor of the second Garnaut Climate Change Review.
Latest posts by Houses and Holes (see all)