See the latest Australian dollar analysis here:
Financial markets lack sentiment as shown by today's price action. Japanese Prime Minister Nato Kan reignited the risk off rally today and send the Nikkei and AUD tumbling after discussing the rising fears of nuclear meltdown after a new fire at the Fukushima reactors. It is no understatement to say that this was the catalyst for what is a market crash in Tokyo and a massive move in other risk based assets.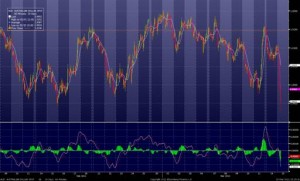 The Aussie has finally broken the bottom of its recent range at .9950/60 as the chart above shows.  That doesn't mean it will stay down here in the very short term but we are certainly getting markets moving from the more recent casual blasé to real concern and fear. A real risk off trade if you will. Australian 3 year swap rates have now also rallied to around 5.03% from 5.25% yesterday and US Treasuries are also rallying aggressive in Asian trade.
Certainly there is a little bit of RBA in the moves in the Aussie and 3 year swap rates after the minutes released today from this month's meeting gave a sanguine view of the interest rate outlook, but a falling AUD coupled with interest rates rallying (falling) and equities under pressure feels like the kind of risk off event that has been lacking up till now and one which could turn into a rout.
Indeed in Tokyo the Nikkei is down another 14% today after yesterday's fall which Bloomberg is saying is the biggest 2 day drop since the 1987 Stock Market Crash.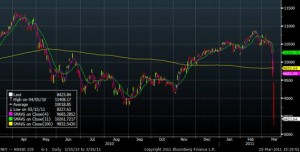 Normally I am very wary of moves in the Asian time zone which are often unwound once the Northern Hemisphere enters trade later in the day but given that Japan is the epicentre of the current ructions and given recent complacency in markets about the recovery there is a chance for this down move to accelerate across all markets.
The next 24 hours could be decisive for the AUD and markets more generally.