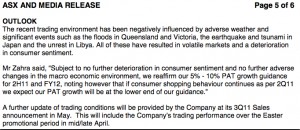 It's always good to under promise and over deliver. And DJ's has done just that in their half year result, posting a good result in depressed consumer circumstances of 4.2% profit growth amidst falling revenue.
They also reaffirmed full year guidance of 5-10% profit growth.
One has to seriously wonder, however, about the above caveat provided in the result. Why include this stuff if there is not already very serious concern, dare I say,  actual impact, on trading?
The pre-warn, warn?
David Llewellyn-Smith is Chief Strategist at the MB Fund and MB Super. David is the founding publisher and editor of MacroBusiness and was the fouding publisher and global economy editor of The Diplomat, the Asia Pacific's leading geo-politics and economics portal.
He is also a former gold trader and economic commentator at The Sydney Morning Herald, The Age, the ABC and Business Spectator. He is the co-author of
The Great Crash of 2008
with Ross Garnaut and was the editor of the second
Garnaut Climate Change Review
.
Did you know the MB International Shares Fund has returned an average of 17.1% per annum and the Tactical Growth Fund an average of 10.4%? Register below to learn more:
Latest posts by Houses and Holes (see all)