Retail sales for January are out and so are the spruikers. According to the SMH today:
Retail sales grew in January as consumers took heart from steady interest rates and a strong jobs market to increase their spending.

The volume of sales increased 0.4 per cent in January, up from 0.2 per cent in December, according to the Australian Bureau of Statistics. Economists had expected retail sales to rise by only 0.3 per cent in the month.

"Low unemployment and steady interest rates likely prompted higher (retail) spending in the month," said Moody's Economy.com. Food retailing rose by 2.5 per cent, while department stores sales increased 2.3 per cent, according to the ABS.

Household goods retailing sank 4.6 per cent in the month with clothing, footwear and personal accessories, all subject to competition from overseas companies on the internet, fell 2.5 per cent, the ABS said.

The Australian dollar firmed to $US1.0198 after the sales data were not as weak as some had bet on. Interbank futures held steady as the data did little to challenge expectations that interest rates are on hold for some months to come.
Sigh … what rot. Here's a long term graph of retail sales: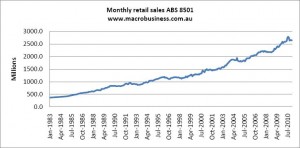 Does that fall at the end look like consumers lighting cigars with $100 bills to you?
What is interesting to note is that as retail sales have increased their rate of growth over the years they have also become more volatile.  The period we're currently wading through is most reminiscent of 2003/04 when housing last stalled. Going deeper, let's check out the sub-sectors: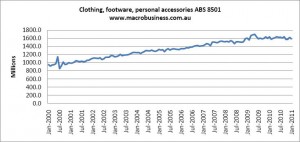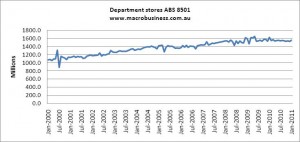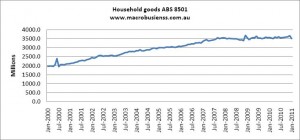 The three merchandise sectors look very gloomy. All three have flatlined since mid 2009. And it got worse in early 2010. Of the three, the only one that displays macro evidence for dollar-related falls is household goods, which stopped growing in 2007, when the dollar first challenged parity.
Let's take a look at the supermarkets and eating out sectors: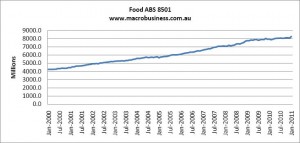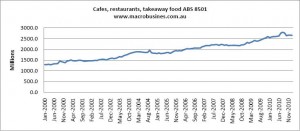 Still growing but its a similar story. There's a distinct flattening for supermarkets in mid 2009 and that sector is joined by eating out  in the first quarter of 2010.
So, let's try to remember what happened back then…that's right, this did: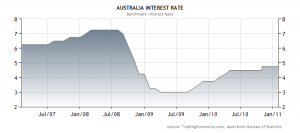 Interest rates started to rise. There would also have been some effect from waning stimulus. That can't explain the first quarter 2010 jolt, however, which was all rates and flatlined house prices.
The oft quoted cliche that monetary policy has a lag period of six months to work looks dead and gone. The lag period now looks compressed to about five seconds. Big debt and overinflated assets have consumers terrified of the RBA.
David Llewellyn-Smith is Chief Strategist at the MB Fund and MB Super. David is the founding publisher and editor of MacroBusiness and was the fouding publisher and global economy editor of The Diplomat, the Asia Pacific's leading geo-politics and economics portal.

He is also a former gold trader and economic commentator at The Sydney Morning Herald, The Age, the ABC and Business Spectator. He is the co-author of The Great Crash of 2008 with Ross Garnaut and was the editor of the second Garnaut Climate Change Review.
Latest posts by Houses and Holes (see all)