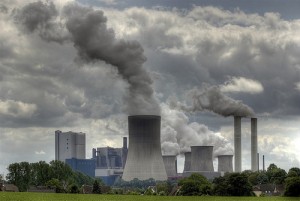 Ross Garnaut yesterday released his last paper of the Review Update, focusing on the energy sector. I paraphrase his main points as follows:
• Carbon pricing will result in switching away from high emission generation;
• It is highly unlikely that the lights will go out when we price carbon;
• Consumers can be compensated by household assistance in a way that preserves the price signals arising from a carbon price.
The main reason Australia is the highest greenhouse gas emitter per capita is our heavy reliance on coal-fired generation. This has made historic sense; Australian householders, businesses and heavy industries have required access to low cost power and our nation's endowment of black and brown coal has made this possible. We will still required low cost power in a carbon-constrained world, yet in such a world such power will need to "internalise the externalities".This will undoubtedly raise the cost of wholesale power; because cleaner energy almost by definition costs more than higher emission generation.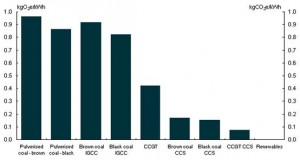 This graph (Chart 6.24) is from the Treasury modeling done in 2008, and it shows the emission intensity for new generation. Note that combined cycle gas turbine (CCGT) plant is significantly less emission intensive than coal, and there are other sources of power with even lower intensity. Not represented on this graph is that fact that our existing fleet of coal-fired power is more intensive than new plant, with older plants being less efficient and therefore more intensive. Hazelwood, for example, built in the 1960s and early 70s is around 1.6kgCO2e/kWh. There are therefore many opportunities for price-sensitive fuel switching, both for new and existing plant, in the electricity market.
This is one of the main reasons for pricing carbon: to facilitate a market-based and therefore lower cost transition from highly greenhouse-intensive energy supply to lower intensive energy supply. It is a wholesale effect that should be differentiated from the retail effect. The retail effect is the impact of higher cost electricity on demand. It is true that electricity demand is quite inelastic, and so you would need a very high carbon price to reduce emissions from lower demand. But the main point of a carbon price is not to choke off demand; that would be a very high cost abatement opportunity. The main point is to transition the energy sector to a lower greenhouse intensity, which can happen at much lower carbon prices (starting around the $20-30/tCO2e level)
The proposal for compensating low and middle income households for the impact of rising electricity prices is a change from historic approaches to the introduction of such mechanisms (although in Australia it was a feature of both Howard's proposed ETS in 2007 as well as the CPRS in 2008/09). In Europe, for example, permits were freely allocated to the emitters, rather than auctioned. Presumably some economists would have warned policy makers about the concept of opportunity cost and that the emitters would pass on the cost of carbon regardless of whether they had been allocated freely or had to purchase at auction. So consumers and industry suffered the higher cost of power without compensation. This is one of the many lessons we, and Europe, have learnt from the EU ETS. Given that the generators will pass through the carbon costs to wholesale power prices, which then are factored into retail prices, it is the end consumers that will feel the impact. Compensating via income measures such as income tax cuts and/or the welfare system is a way of providing an offset while also preserving the price signal of higher emissions. It is not the case that compensating households removes the point of pricing carbon in the first place.
I am somewhat confused, or perhaps bemused, about the accusation that this is a "big tax merry-go-round". Our taxation reform history is well-populated with instances where the taxation base has shifted, most noticeably from income to consumption with the introduction of the GST. The shift to a carbon price can be thought of as merely a shift in taxation base from broad-based consumption to one of consumption based on implicit carbon emissions.