Clearly ABARE does not heed RBA maverick, Warwick McKibbin.
In its latest report , the national commodity tracker offers forecasts for the next four years of Australian commodity exports: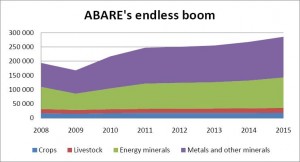 Uninterrupted growth. And if we look at the economic assumptions underpinning this bonanza, we find a nice illustration of just how seamless it will be: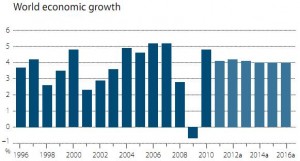 The dark blue and light blue don't look very similar do they? That's the difference between actual and projected.
Also out today was the RBA's index of commodity prices for February:
Preliminary estimates for February indicate that the index rose by 2.2 per cent (on a monthly average basis) in SDR terms, after rising by 5.3 per cent in January (revised). The largest contributors to the rise in February were increases in the estimated prices of iron ore and coal, reflecting some further adjustment towards the higher contract prices in the March quarter. Increases in the prices of crude oil and wheat also contributed to the rise, while beef & veal prices fell. In Australian dollar terms, the index rose by 1.9 per cent in February.
That looks anything but seamless to this blogger. In fact, it looks tearaway.
Which is the point. This blogger is not so naive that it expects ABARE to forecast business cycle busts. But it could at least build in some risk discount to global growth.
Latest posts by David Llewellyn-Smith (see all)