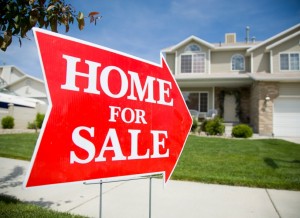 As debate continues to rage about the rising US public debt, it is becoming increasingly obvious that politicians are going to have to tackle some sacred cows if they are serious about cutting the deficit. These include areas that have traditionally been immune from cuts, such as defense, social security and Medicare. These three alone make up the bulk of the budget.
Now, I have argued before that right now is not the time to be slashing public spending (see here for example). But let's put that question aside for today. If you really want to reduce the deficit, there is an elephant in the room that many people are ignoring. Because of a raft of exemptions and deductions, US tax revenues are the lowest of any major developed country (see the second chart in my post here).
Perhaps the most important of these are the massive incentives for home ownership. Unlike Australia, the US does not allow negative gearing. But it does allow home owners to deduct mortgage interest payments on loans of up to $1 million from their taxes, not only for their principal residence, but for holiday homes as well.
On top of this, there is an exclusion of up to $250,000 (or $500,000 for a couple) on capital gains tax for the sale of a primary residence. And that's not all.  US home owners can also claim tax deductions for the interest on "home equity" loans. In other words, you can take out a second mortgage on your McMansion to buy a new Hummer or a 72 inch plasma TV, and then claim the interest payments on your tax. In the annals of stupid government policies, this one has to take the cake. Why are we encouraging people to take on more debt?
In any case, the deduction for mortgage interest payments alone costs the US Treasury around $130 billion a year in lost tax revenue. As the Motley Fool puts it:
Consider just how much that is. If the cost of subsidizing mortgage interest were a line item in the federal budget, it'd rank as the seventh costliest — just ahead of education and veterans benefits. The federal government spends more money subsidizing mortgages than on anything other than defense, entitlements, unemployment insurance, and interest. Pretty incredible.
Now, the main reason given for the mortgage interest tax deduction is to encourage home ownership. Indeed, proposals to get rid of it inevitably run into howls of protest from vested interests such as the National Association of Realtors (NAR). (yes, the same NAR that was recently found to be overstating real estate sales by 15-20%)
Housing is the engine that drives the economy, and to even mention reducing the tax benefits of homeownership could endanger property values. Home prices, particularly in high cost areas, could decline 15 percent if recommendations to convert the mortgage interest deduction to a tax credit are implemented.
The NAR is probably right that getting rid of the deduction would hurt property values. But is the subsidy worthwhile? And is it even satisfying its policy objective of increasing home ownership?
A Subsidy for the Rich
The first argument against home ownership incentives like the mortgage interest deduction is that they distort investment decisions in the economy towards housing and away from more productive business investment.
The second argument is that they are highly regressive– in other words, the benefits mostly go to higher income earners. In essence, the mortgage interest deduction is a massive redistribution of income away from lower-income renters into the hands of middle and upper-class home owners. You can see here that the vast majority of the deductions are claimed by individuals on over $75,000 a year. For this reason the Tax Policy Center has called the mortgage deduction a "reverse Robin Hood–the biggest subsidies go to those who need it least."
The third problem (and this should sound very familiar to Australian readers) is that mortgage subsidies simply end up getting capitalised into house prices. This means that house prices just end up rising by an amount equivalent to the value of the subsidy, potentially exacerbating the very problem of affordability that they are supposed to be solving. This is especially the case in those cities where, due to excesssive planning restrictions, the supply of housing is unresponsive to demand.
A recent study by these economists illustrates this point well:
In places with tight land use regulation (inelastic supply), notably the highly urbanized places that stand to benefit most from the potential positive externalities of homeownership, the tax subsidies will tend to be capitalized into house prices, and the housing stock will not expand to facilitate higher homeownership rates.

The mortgage subsidies will thus generate price capitalization effects rather than quantity responses. In this instance, not only will the MID not bring about higher homeownership attainment, such price capitalization effects may create a perverse outcome whereby the MID adversely affects the homeownership attainment of certain groups.
The authors continue:
The implications of the MID for redistribution are striking. The fact that the subsidies have an adverse effect on homeownership attainment in the more regulated markets, implies that an increase in the subsidy rate only serves to make existing (typically higher-income) homeowners better off and existing (usually lower-income) renters worse off.  In less regulated places we do find the intended tenure transitions but, again, only for the higher income groups.
So in summary, there is hardly any evidence that the mortgage interest deduction has helped home ownership, it is highly regressive, and it only serves to push house prices even higher.
The Solution
So should we simply get rid of all home ownership incentives? As Ed Glaeser argues, there are some good reasons to promote home ownership:
Homeowners do appear to be more active citizens. They vote more. They take better care of their homes. Houses that are surrounded by homeowners are worth a little more than houses that are surrounded by renters.
But the question is: what is the best way to do this? As the experience of the US and Australia shows, tax subsidies and first home owners grants have been a dismal failure.  And when these policies are combined with planning regulations that severely restrict supply, the result is potentially disastrous booms and busts.
If we really want to promote home ownership, we need more affordable housing, and you can't do that by simply propping up demand. You need a return to sensible lending standards. And as my fellow blogger The Unconventional Economist has convincingly argued, you need to address the maze of nonsensical regulations (zoning, height restrictions, etc etc) that are preventing supply from adjusting quickly in response to changing demand.
There are a variety of proposals being floated for reform of the US mortgage interest deduction. These range from complete abolition to replacing it with a limited tax credit, or limiting the deduction to primary residences and loans of under $500,000. There is going to be fierce opposition to any change, but the current hysteria about the deficit means that now is as good an opportunity as this country will ever get to reform.
The implications for house prices are not good, but in the long term, it's a necessary change.
Before I finish, I'd point out that this debate has quite a lot of relevance for Australia.
Australia has not experienced a recession for two decades, but when it next does, the federal budget will inevitably come under pressure. Political pressure to cut "wasteful" spending will rise, just as it has in the US.
And people may start to ask the question. Do we really want to keep spending billions of dollars a year to subsidise property investors through negative gearing?
Really?
Disclosure: This blogger has no positions in McMansions, Hummers or 72 inch plasma TVs.