The United States Democratic Party has a problem. Following the 2010 Census, which showed strong population growth in Republican held states, six House of Representative seats and Electoral College votes are to be reapportioned toward states won by John McCain (the 2008 Republican candidate) from states won by President Barrack Obama (see below map).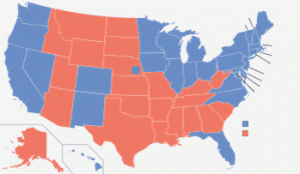 This loss of votes to Republican heartland is clearly something that the Democrats will want to arrest.
A recent article in New Geography explains some of the drivers underpinning the population shift. Essentially, it argues that America's major cities are following two different and competing models.
On one side, you have the "high quality" model. These cities typically focus on high wage activities, including finance, high technology, and luxury consumption. Under the quality model, traditional growth in areas like population, jobs, and/or size are less important and even seen as a negative. Many of these "quality" cities focus on growing vertically, and residents often oppose growth due to increased traffic, infrastructure spending, and other challenges associated with growth.
In effect, the anti-growth agenda that dominates the culture of many of these places is not based simply on environmental concern, but the economic interests of their dominant regional elites…

On measures of urban quality such as economic output and income, most are clearly doing very well. Most of these places generate GDP per capita far above the US metro average of $41,737. With the exception of Chicago, they are also growing at a pace that beats the US average. These cities also boast incomes – although often a cost of living – generally well above average…

[But] many of them have anemic population growth, albeit from a large base. And virtually all of them actually destroyed jobs in the last decade…
Below is a table, from the New Geography article, showing the performance of the "high quality" cities by various metrics.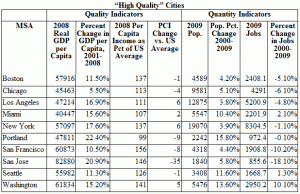 By contrast, America's "high quantity" cities tend to provide the bulk of the jobs for America's middle class as well as a lower cost of living; although, they tend to lack the high-end business and glamorous lifestyles of America's premier cities.
These cities fare well on quantity measures such as population growth, where they crush the US average of 8.8%, and job growth, where several of them actually managed to post double-digit gains during the generally anemic 2000s.

But all is not well with these cities just because they are adding jobs and people. Their GDP per capita is generally above average, but is growing slowly. Their per capita income may be lower than some, but their cost of living is rock bottom, enabling a high quality of life…
The below table, again from New Geography, shows the performance of the "high quantity" cities by various metrics.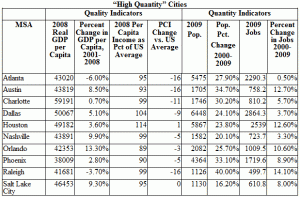 According to New Geography:
These two dynamics [quality versus quantity] reflect what has happened throughout America, from retail to media, where there has been a great "hour glassing" effect in the marketplace. A small but significant high end is thriving, almost everywhere but particularly in the quality oriented cities. The low end is also doing well, particularly in the quantity oriented cities.
A recent article in the Wall Street Journal, The Great Lone Star Migration, also explains the recent population shift towards the Republican states.
[An] area that was written off by demographers 40 years ago but that has come roaring back is the Interior South, the Southern states west of the South Atlantic and east and north of Texas. They grew 26% in 1930-70, nearly 40 points below the national average, but they have grown 39% in 1970-2010, only 12 points below the national average.

One reason is that black outmigration halted just as the 1960s civil rights acts were passed and enforced. Instead we have been seeing black in-migration in the South in recent years. The South has become a good place to do business. Alabama and Tennessee, with their non-unionized plants, have become major auto producers. Memphis boasts not only Graceland but FedEx. And with a low cost of living, the region is home to many retirement centers.

Finally there is Texas. In 1930 there were (rounded off) six million people in the Lone Star State versus 13 million in New York. In 1970 there were 11 million in Texas and 18 million in New York: Each had grown by about five million. But in 2010 there were 25 million in Texas and 19 million in New York.

Back in the 1930-70 period, liberal political scientists hoped and expected that America would become less like Texas and more like New York, with bigger government, higher taxes and more unions… [But] Americans have been voting with their feet for the Texas model, with its low tax rates, light regulation and openness to new businesses and enterprises.

Today one out of 12 Americans lives in Texas—the same proportion that lived in New York City in 1930. Metropolitan Dallas and metropolitan Houston, with about six million people each, threaten to overtake our fourth largest metro area, San Francisco Bay (population about seven million), in the next decade.

In 1930 half of all Americans lived in New England, Megalopolis and the Foundry, and 40 years later 46% did. Now only one-third of Americans live in those three regions, the same proportion as live in the South Atlantic, Interior South and Texas.
Clearly, Texas appears to have been the big winner from America's population shift, with its two largest centres, Houston and Dallas-Fort Worth, managing to achieve both higher than average incomes and low cost of living, in spite of rapid population growth.
And Texas' low cost of living, attributable mostly to its affordable housing from its liberal land-use policies, has been credited for much of Texas' success. A recent article in Forbes explained this dynamic:
In most regions, the vast preponderance of homebuyers are either natives or long-term migrants. Their less glamorous tastes — notably access to affordable single-family dwellings — drives migration  from one region to another. Over the past decade, and even since the crash, this has meant a general trend of migration from high-end, unaffordable markets to less expensive regions. In the U.S., for example, people have been flocking to the South, particularly the large metropolitan areas of Texas…

[In most] cases affordability has promoted economic and demographic growth.  Generally speaking, affordable markets tend to draw migrants from overpriced ones, for example to Houston or Austin from Los Angeles or New York…
Indeed, the housing market is one of the great contradictions of American politics. Although the Democratic Party is traditionally viewed as the party that looks after the working classes' interests, the Democratic states are typically those with the most unaffordable housing caused, to a large extent, by restrictive land-use  policies that prevent new low-cost housing from being built. By contrast, the Republican Party, which is traditionally viewed as the party for the wealthy, typically has affordable housing within its heartland, largely brought about by its less-restrictive land-use policies.
Ultimately, a region's growth is highly correlated with the increase in the number of homes. And if you do not build, you won't grow your population. The Democratic Party needs to awaken to this fact. Otherwise it risks losing more House of Representative seats and Electoral College votes to the Republicans.
Cheers Leith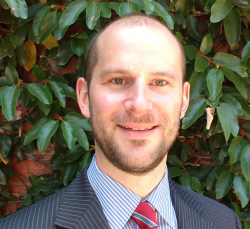 Latest posts by Leith van Onselen
(see all)