Is the media deliberately obtuse? Following Myer's complete wipeout, there's a universal chorus of "cautious consumers" being the problem. It's the weather, it's the banks, it's rate rises, it's your grandmother's cat.
The problem with this "cautious consumers" line is that it implies a choice. The Australian shopper has apparently elected not to buy.
Well, this blogger is sorry, but it's wrong. The Australian consumer cannot afford to buy and you better get used to it.
In last week's Statement on Monetary Policy, the RBA said the following about its forecasts, which will determine interest rate levels:
The outlook for consumption and the timing of the pick-up in resource sector investment are two other important influences on the outlook. The household saving ratio is forecast to remain broadly unchanged over the forecast period, after having increased significantly since the mid 2000s. There are, however, plausible scenarios in which the saving ratio increases further, and others in which it declines. On investment, while confidence in the broad outlook has increased, the exact timing and scale of projects remain difficult to forecast. Given the size of the large projects, changes in timing can have a material effect on the quarterly profile of aggregate demand and GDP.
The household savings ratio that the RBA is referring to is below: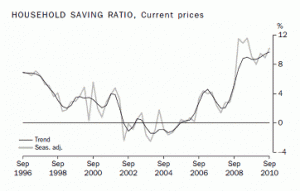 In short, the RBA is on hold so long as the ratio stays where it is: High. That clearly implies that if it falls, and consumption rises, rates will also rise.
Consumers can choose to spend more if they like, and they'll get hammered on their mortgages if they do. What a bargain!
Glenn Stevens warned Australians about further debt accumulation mid last year. The people are being compelled to listen, even if the media won't.
David Llewellyn-Smith is Chief Strategist at the MB Fund and MB Super. David is the founding publisher and editor of MacroBusiness and was the founding publisher and global economy editor of The Diplomat, the Asia Pacific's leading geo-politics and economics portal.

He is also a former gold trader and economic commentator at The Sydney Morning Herald, The Age, the ABC and Business Spectator. He is the co-author of The Great Crash of 2008 with Ross Garnaut and was the editor of the second Garnaut Climate Change Review.
Latest posts by David Llewellyn-Smith (see all)