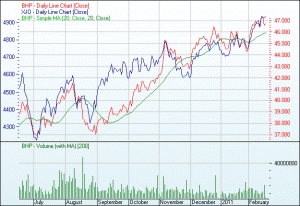 BHP has reported its much anticipated mega profit, showing just how much better it is to be leveraged into the developing world than the developed world. The market predictably sold off on the news. As for what happens next, most brokers are bullish: Deutsche Bank, Goldman Sachs, Merrill Lynch, UBS and Royal Bank of Scotland all had buys. Morgan Stanley had overweight and Credit Suisse neutral. Target prices ranged from $50.71 to $65.85.
All very positive, but a report by Morgan Stanley has suggested that global mining valuations are pretty bullish. BHP is on a forward price earnings ratio of about 12, slightly above global mining valuations of 11, which are a 12 per cent discount to the overall market.
The Morgan Stanley report points out that although the valuations seem unremarkable, by historical standards they are high. Investors historically discount earnings perceived as cyclically high. In prior cycles, global mining typically traded at a 40 per cent discount to the overall market's historical earnings multiple.
Investors sensibly discounted cyclically elevated profits. Not now. Real earnings are at all-time highs, but the sector is now on a 40 per cent earnings multiple premium.
The Morgan report says the key is ultimately return on equity. Since 2004 global metal and mining companies have averaged return on equity of almost 17 per cent. The Australian sector has averaged return on equity of 25 per cent in the same period. BHP's current return on equity is 41%.
Of course, all this is driven by stellar commodity prices. One question worth asking is, are commodities still commodities (in the sense that they occupy the low value end of the production chain)? The prospect of looming scarcity suggests that they might stay at the high value end of the production chain, and manufacturing may become the lower end. Maybe it is different this time.
The Morgan report shows that despite the deepest slump in 80 years, which engulfed developed economies, most industrial commodity prices did not fall below their long-term average. Mining company profits fell in the downturn – the decline was relatively mild compared with the severity of the recession Producers' prices, profits and returns have since recovered. It concludes that the prospect now is for further upside if, as looks likely, developed economies accelerate this year.
Then again, maybe it is not different this time, and the market is getting too enthusiastic at the top of the cycle.