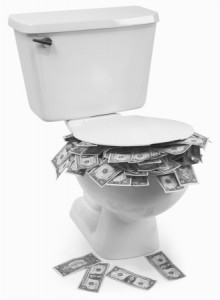 Take a photo. This blogger agrees with Ralph Norris.
The Rio Tinto result screams of the need for a resource rent tax. From The Oz:
RIO Tinto has almost tripled its full-year net profit to a record $US14.32 billion ($14.25bn) after iron ore and copper prices surged last year, enabling the big miner to commit to a massive $US5bn share buyback.

The buyback is the second biggest undertaken by an Australian-listed company — BHP Billiton earlier broke a larger $US13bn buyback into two parts — and is a stark indication of how resurgent developing world demand has changed the fortunes of Rio and other miners.

… Net profit after tax for last year rose to $US14.32bn from $US4.87bn the year before.

Underlying net profit of $US13.98bn, up from $US6.3bn in 2009, was in line with analysts' expectations of $US14bn.

Analysts said the report was solid and clean and and they were pleasantly surprised by the extent of the buyback.

The higher earnings were largely due to booming prices last year, with average received copper prices up 47 per cent and iron ore, which made up more than 70 per cent of Rio's earnings, up by 75 per cent to $US130 a tonne.
Jesus. We already know Q2 2011 ore contract prices are coming in at least $165 per tonne. That's before moving to shorter term, which this blogger still expects. And ore is still rising. So is copper.
And what is Rio doing with all this dough? Back to The Oz:
…The $US5bn buyback, which was forecast by Deutsche Bank analyst Paul Young, comes on the heels of BHP Billiton's November announcement that it would restart a $US13bn buyback, the biggest by an Australian company, that it had called off in 2007.

BHP had announced the buyback in two stages, of $US3bn and $US10bn, and still had $US4.2bn to buy back when it was called off as BHP made an ultimately failed $135bn bid for Rio.

If Rio's record $US23bn cashflow is replicated this year there will probably be more in the way of buybacks. "In times of high cash generation, there will be opportunities to return further cash to shareholders," Mr Albanese said. The buyback will be completed over two years.

Chief financial officer Guy Elliott said it would at first be on-market and target London-listed shares, which trade at a discount to the company's Australian shares, but this could change if circumstances meant another method would benefit shareholders more.

Rio's shares rose 30c to $88.68 ahead of the result, which came after the market closed yesterday.

Rio also boosted its full-year dividend and, by association, its 2011 first-half dividend.

It paid a final dividend of US63c, boosting the full-year dividend to $US1.08, up from US90c in 2009. For Australian shareholders, the dividend is fully franked and will be paid on March 31 to shareholders on the register by close of trade on March 8.

"Our confidence in the quality of our tier-one assets and our positive view of future commodity demand growth have allowed us to increase the annual dividend by 20 per cent, setting a baseline for a progressive dividend policy," Rio chairman Jan du Plessis said.

In line with its practice of paying an interim dividend that is half the previous year's full dividend, the interim dividend will be US54c.
By all means increase the dividend. The owners of the stock deserve it.
But, if all Rio (and BHP) can think of to do with their lazy billions is goose the stock then give us all a break.  That money should go to the owners of the resources, not the owners of the company. And it should go straight into a sovereign wealth fund.
If Rio and BHP could use the dough to make acquisitions then this blogger would consider the possibility that the money would be put to more productive use with the firm. But, they can't. And it's not because, as the broader media likes to say, they are too big. As this column has written before, rather it's the way they have abused that size via interest politics in Australia and gouging in China that is the problem. It is that that has made them unwelcome in places like Canada.
Ironically, the anti-RSPT campaign is a prime example.
This sad episode is an example of how damaging vested interests and weak government can be to the national interest. Resource rent taxes are now political poison. The companies themselves are poisonous to outsiders. Australia is trapped. The companies are trapped.
And the money gets pissed up against the wall.
Latest posts by David Llewellyn-Smith (see all)