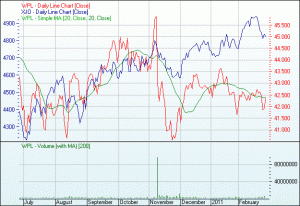 The oil price looks headed north, maybe a long way north, which will probably focus investor attention on potential domestic equity market plays in the energy sector. But wading through the broker reports, it is a pretty mixed picture. Morningstar Equities describes Woodside as "Australia's premier oil and gas play" and has a buy on the stock. Its dividend is about 2.4%, and it will start its massive Pluto-1 project in August or September. Southern Cross Equities also has a buy on the stock, with a 12 month price target of $49, stating the obvious: that the oil price is recovering due to "demand and geo-political unrest" and that 90% of Woodside's sales are oil linked.
There are some discrepancies: according to Southern Cross Woodside is trading on a modest earnings multiple of 16.4 times for 2012, according to Morningstar it is about 24 times.
Both brokers like Woodside's growth story, however, as does Deutsche Bank, which has a buy. Deutsche also has buys on Oil Search, AWE and Eastern Star Gas. It has hold recommendations on Origin, Santos, Caltex, Nexus Energy and AED Oil.
Macquarie Equities has an outperform rating on Horizon Oil and a price target of 45c. Macquarie has Horizon's return on equity rising to over 20% for next financial year and likes the progress on development opportunities.
Macquarie also likes Roc Oil with a 12 month price target of 65c, almost twice the current price. Debt is expected to be fully paid this year, and Macquarie likes the new CEO. But not all are impressed. Merrill Lynch has a neutral rating, a price target of only 38c, and has issued a report saying the stables have been cleaned but where are the horses? The growth strategy, according to Merrill, is yet to appear.
AGL and Origin Energy, are getting only patchy support. UBS has a buy recommendation on Origin, with a 12 month price target of $18.66, after removing a discount over uncertainty about payments for the Australia Pacific LNG plant, to joint venture partner ConocoPhillips (deferred).
The UBS report had a previous 5 per cent discount for risk, which it has removed. UBS has the stock on a franked forward dividend yield of 3 per cent and a prospective earnings multiple of 22 times. Deutsche Bank has a 12 month price target of $16.20. Deutsche has "question marks" over the economics of the Asia Pacific LNG project. Merrill Lynch has a buy and a 12 month price target of $18.30.
AGL is getting similarly patchy support. Morningstar Equities Research has a buy on the stock, but Morgan Stanley only has an equal weight recommendation and a price target of $14.97. Deutsche Bank has a 12 month price target of $17.26 for AGL.
Renewable energy company Infigen might be considered a beneficiary of higher energy prices, but once again the picture is cloudy at best. Deutsche has a buy, and a price target of 80c. But Credit Suisse has a much lower price target of 38c, and estimates that the company is surviving on thin air: without introducing some accounting changes it may have breached its debt covenants (according to Credit Suisse).
Not exactly an overwhelming case to rush into individual stocks. But there is always the index play.
Morningstar Equities Research 230211 (1)