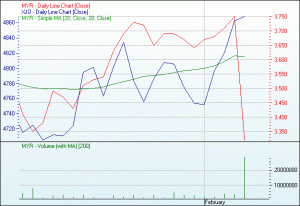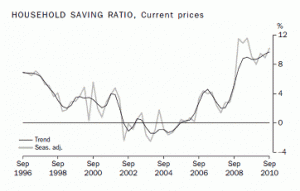 The chart is the Australian household savings ratio from the ABS national accounts. Note the dip into "equity mate" territory through the mid noughties. Guess where all that cash-outed equity went?  Now, in the absence of stellar house price growth, the home ATM is shut and consumers have no choice but to become fair dinkum savers.
Without putting too finer point on it, that means retail as a sector is hardly going to grow and discretionary may well shrink some. With no top line growth, that means the only game in town is chasing market share. Hence today's move to steal Sass  &Bide from David Jones.
This blogger recommends being very confident about management's ability to outperform before investing a dime in retail.
David Llewellyn-Smith is Chief Strategist at the MB Fund and MB Super. David is the founding publisher and editor of MacroBusiness and was the founding publisher and global economy editor of The Diplomat, the Asia Pacific's leading geo-politics and economics portal.

He is also a former gold trader and economic commentator at The Sydney Morning Herald, The Age, the ABC and Business Spectator. He is the co-author of The Great Crash of 2008 with Ross Garnaut and was the editor of the second Garnaut Climate Change Review.
Latest posts by David Llewellyn-Smith (see all)