The duopolist retailer Woolworths (WOW) has announced its HY11 results before the market opened this morning. In addition, it announced the acquisition of The Cellarmasters Group for $340M (subject to non-regulatory intervention).
Highlights include:
Revenue up 4.2%
Interim dividend up 7.5%
Net Profit after-tax up 6%
All good figures, reflecting a strong result in difficult times, with profit after tax guidance confirmed for the remainder of the year at 5-8% growth.
But not all is good with "The Fresh Food People" – this post will look past the press releases and shiny investor presentations and delve deeper into WOW's finances.
A quick read this morning before the open reveals the following:
Inventory is up 7.3%
Net debt is up to $3,627M from $1,532M
Capex for the half is up 18% on prior period
Operating cashflow is up (marginally) but free cashflow is down 8.5%
Increased inventory is an interesting line item: other retailers (e.g The Reject Shop) have also noted a sharp increase in inventory, reflecting goods not sold in this cautious consumer environment.
Increasing net debt by over 100% is also an interesting development, to say the least. How did this happen? WOW undertook a significant on-market share buy-back scheme in April and October last year.
Borrowing $1.2 billion to buy back shares seems like folly at first glance, but fits into WOW Management's drive to maintain high return on equity and funds employed. Reducing the equity base whilst maintaining or slightly growing profits achieves this in spades.
It does however, expose the business to funding risks in the future and degrades the overall balance sheet, with the net debt to equity ratio jumping from 27% to 48%. This blogger prefers a net-debt to equity ratio of under 30% for most companies (and zero for those with average managers).
Paying a dividend at the same time falls into the "me-too" category that shows how major ASX companies are still slaves to fund managers and dividend hunters. Retaining the dividend to boost the balance sheet during this time of expansion would make more sense from a robustness point of view, shielding WOW from any shocks (e.g a debt deflation recession?). But upsets the apple cart of retaining the "stable dividend" blue-chip persona, and in the short term, like the share buyback, returns capital to shareholders.
In the long run however, I doubt many of those shareholders can get a better return on their own capital than WOW does – whose Normalised Return on Equity averages 35 to 40% per year. The nearly $700M dividend payout would have built a few more DIY warehouses to go up against Bunnings.
Return on Equity
Given the massive expansion into the ultra-competitive home improvement market that WOW is undertaking, this blogger is not sure the changes in the balance sheet are indicative of a strong, robust to the business cycle company.
This possible weakness is reflected in the most important metrics – cashflow. Whilst operating cashflow (i.e the cash the company takes and gives whilst running the business) is up marginally by 1.2%, due to the higher interest costs of the new debt, plus increased capital expenditure, free cashflow (i.e what is leftover, after paying tax and building new stuff) is down a significant 8.5%.
If a business needs more retained capital to get a similar or less inflation-adjusted return, it does not bode well for future equity growth, and that's what drives share prices in the long run.
This blogger admits that WOW is a favourite – and laments the sideways action since the GFC for investors, even though clearly, equity per share (i.e actual book value) has grown significantly in that timeframe.
Equity per Share
In the past, WOW has performed well after consolidating/moving sideways during pauses in the 20 year economic miracle that is the Australian economy.
Monthly share price since 1994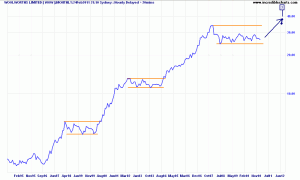 From a fundamental point of view, WOW remains undervalued (approx. $33 to 36 per share vs. yesterday's close at $26.50)
Whether the sideways share price march will continue in the future is left to the market's viewpoint that WOW can sail through the current change in consumer sentiment. This blogger still considers WOW a "Wonderful" company, but there are a few concerns about the thickness of the hull.
Disclosure: This blogger's investment company has a position in WOW. This blogger also trades WOW both long and short, as covered previously here. Like all endeavours, do your own research as none of the above constitutes investment or trading advice.
Latest posts by Chris Becker (see all)