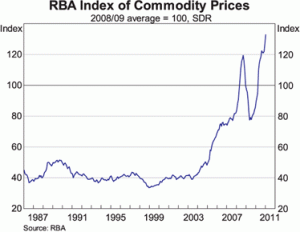 Oh yes, ladies and gentleman, fresh from the RBA, that's another monthly moonshot in Australia's terms of trade for January. That means:
Over the past year, the index has risen by 49 per cent in SDR terms. Much of this rise has been due to increases in iron ore, coking coal and thermal coal export prices. With the appreciation of the exchange rate over the year, the index rose by 35 per cent in Australian dollar terms.
And now that rates are on hold, the Aussie may languish for a while, passing the cash gush through uninhibited.
However, with this amount of dough hitting the economy over the next few months, it isn't going to fall too far, barring some 'risk awwwf' calamity overseas.
With the combination of the commodities cash gush and held rates, it will be very interesting to see if the default position of Australian psychology reasserts itself and housing credit revs up in the next few months.
David Llewellyn-Smith is Chief Strategist at the MB Fund and MB Super. David is the founding publisher and editor of MacroBusiness and was the founding publisher and global economy editor of The Diplomat, the Asia Pacific's leading geo-politics and economics portal.

He is also a former gold trader and economic commentator at The Sydney Morning Herald, The Age, the ABC and Business Spectator. He is the co-author of The Great Crash of 2008 with Ross Garnaut and was the editor of the second Garnaut Climate Change Review.
Latest posts by David Llewellyn-Smith (see all)