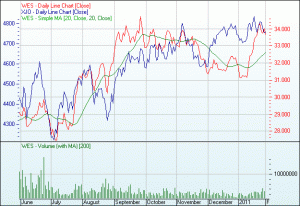 Will the uprising in Egypt be an influence on the Woolworths share price? The interconnection of the global economy can be exaggerated, of course. The news that Coles is rapidly catching up will be exciting more investment attention in the short term. Coles' food and liquor sales grew by 6.3%in the latest half compared with 3.5% with Woolworths. But as my estimable co-blogger Houses and Holes observes, the Egypt crisis is related to the prospect of global food stress. This could set up a pincer for Australia's supermarket cartel, or, more accurately, create financial signals that would contribute to increasingly bearish sentiment.
Here is how the signals might look. Higher food prices, which will definitely occur in the short term because of the Queensland floods, would have an effect on profit margins, if it becomes hard to pass higher costs on to customers. And higher food prices would feed into inflation, increasing the possibility of interest rate rises for Australia's already heavily geared household sector.
Woolworths is exposed to the wrong part of the two speed economy. And the free ride it has enjoyed courtesy of the incompetence of its sole rival is starting to dissipate as Wesfarmers starts to achieve a level of mild mediocrity, as opposed to the spectacular incompetence of previous management regimes. Amongst the chatterazzi, Business Spectator is talking of Coles "innovating" and The Age says Coles "comfortably beat" Woolworths in the last half. More bad signals.
The semiotics coming from brokers are not too promising, either. Deutsche Bank has a hold recommendation on Woolworths and a 12 month target price of $30. Morningstar has accumulate (which in English means hold at best, more probably start to sell down unless you really like the dividend yield). Southern Cross Equities is bearish on retail generally, commenting that Woolworths profit downgrade "is Australia's major consumer staple telling you consumers are becoming far more selective and price point responsive."
The signals are much better for Wesfarmers. Deutsche has a buy and a 12 month price target of $41.57. Wesfarmers and Royal Bank of Scotland only have holds, though. There is a growing bearishness about retail. It is perhaps significant that brokers have Woolworths, the pure supermarket play, on a prospective earnings multiple of 15 times, whereas Wesfarmers, a conglomerate, is on a prospective earnings multiple of 19 times.
Woolworths dividend yield will offer some protection on the downside, but it may be that it is not just Hosni Mubarak who is relinquishing three decades of hegemony.