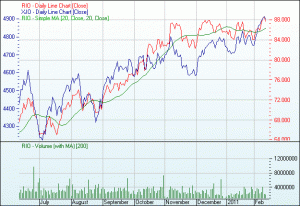 Two exalted members of Australia's cartels are in town and telling very different stories. Telstra lobbed a 36% profit fall, albeit accompanied by bullish forecasts about the company's glorious transformation. Rio Tinto reported a massive US$14 billion full year profit and a 20 per cent jump in its dividend. It is hard to imagine two companies with more different challenges. Telstra has to stop lovingly fondling its copper wires and fibre and find out what a customer is. It will be pretty daunting. With a long history of poor customer service, Telstra will face a massive, perhaps impossible cultural change. It is just lucky that they will not get any serious competition from Optus or Vodafone.
Rio Tinto, by contrast, has to beat customers off with a stick. All it has to do is manage its capital well and not make silly, highly geared acquisitions at the wrong time and it should be able to ride the commodity wave for years. That could be a big ask, too, though. There is nothing like, mostly fortunate, success to excite corporate hubris. Although Rio now has negative net debt to equity, suggesting that fear of the consequences of debt remains high.
The chatterazzi have said remarkably little The Financial Review muttered about the "high price of Telstra's neglect", noting that Telstra's customer acquisition strategy cost $50 million more than budget and that Optus got a first mover advantage when the Apple iPhone was released. Interesting, but all these market shares to revert to the usual mixes that occur in Australia. In cartels, any market share gains are expensive to acquire and hard to hold, so the cartels instead dance around the mean, the median, the average and the norm. The Age opined that the new strategy looks sound, but that does not mean much.
Brokers are reasonably bullish about Telstra, perhaps because of its forecast 9.7% dividend yield. But that yield is pretty high risk; a drop of a third in profits can pretty quickly dent a dividend payout. Plus the high yield is a measure of how sceptical the market is about the "growth story".
Rio, by contrast, can take up a very comfortable seated position on its laurels and perhaps eat a grape or two. It may even be worth a buy. Brokers have some pretty high price targets of about $107. If that transpires it will be a decent capital gain. The negatives are that the dividends are low and buybacks seem to go to the Brits.
Local institutions, which have to buy these stocks anyway, might increase their allocation for Rio. Retail investors might prefer Telstra's income.