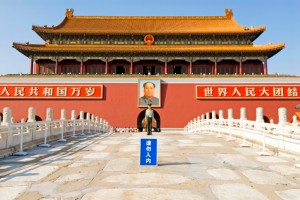 Investors are nervously watching the situation in Libya unfold this week as fears grow that the unrest could spread to larger neighboring countries like Saudi Arabia, disrupting the supply of oil.  Oil rose above $100 a barrel in New York today, while one investment bank predicted that if Libya and Algeria alone were to halt output, oil could shoot to $220.
Heady stuff for the markets, and the Middle East bears close watching. But let's not take our eyes off the big picture.
Halfway across the world in China, the growing unrest in the Middle East is causing a real headache for the Communist Party's leadership — one that could have great implications for economies and financial markets in 2011.
As the New York Times says today:

BEIJING — A small but stubborn protest movement is continuing calls for demonstrations despite a campaign of arrests and censorship that underscores China's concern over unrest and revolts in authoritarian countries in the Middle East and North Africa.

According to the Hong Kong-based Information Center for Human Rights and Democracy, three people were detained for "inciting subversion of state power" after they reposted calls for protests last weekend. The detentions could not be confirmed independently, but they follow roundups of scores of dissidents and rights lawyers. Some well-known lawyers who handle sensitive cases were placed under house arrest and some beaten badly, according to human rights activists.

Activists, possibly from outside China, have called on citizens in China to express their displeasure at the country's lack of reforms and officials' corruption by silently meeting in front of department stores or other public areas for a "Jasmine Revolution," a named borrowed from the Tunisian revolt that set off the Mideast unrest.

Organizers have now called for the protests to continue each Sunday, and gave a list of spots in a dozen major cities where people could "go for a stroll" this coming Sunday at 2 p.m.
No doubt Beijing will do whatever is necessary to stamp out any protests and ensure political and social stability. But with Hu and Wen in their final year of office before China's leadership transition in 2012, they face a very difficult balancing act.
Rising inflation is leading to increasing social tensions in China, exacerbating another simmering source of discontent: rising income inequality between rural areas and the big cities.
Beijing has already increased the pace of rate hikes in 2011. Facing a potential political time bomb if food inflation gets further out of hand, will they opt to increase the pace of tightening even further to ward off social unrest?
And if they do so, what is the risk of overdoing it and plunging the economy into a sharp slowdown that could forment more of the very type of dissent that they are trying to ward off in the first place?
China simply cannot afford a sharp slowdown in growth at a time when cries for political freedom and an end to one-party rule across the Middle East are giving their own dissidents ideas for a home-style "Jasmine revolution."
The stakes are very high.