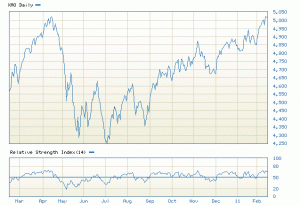 My fellow blogger, Houses and Holes, has magisterially, even regally, detailed how private debt has come to matter in Canberra circles since the global financial crisis. It seems Australia's largest companies agree. The game of pass the parcel – private business gets the profits and ideological smugness; governments get the losses, debt problems and blame – rolls on relentlessly. A Deutsche Bank report (below) notes that gearing of Australia's public companies is at historic lows, particularly for resource companies. After the equity raisings of 2008 and 2009 (for which read: "run for the hills and hide in a cave in the hope that all this goes away"), growth in net profit after tax and earnings per share are tracking each other. They are both likely to be up about a fifth in the reporting season.
Deutsche says gearing for the All Ords is about 20% this financial year, compared with 50% historically. That is a massive drop, and a measure of how big companies were spooked by the GFC (not that they were wrong; we are lucky to have a financial system at all). Gearing is especially low for resource companies. It is about 12% for resource companies and about twice that for industrials. Deutsche notes cash balances for industrial stocks are not especially high, suggesting that the equity rasing were used to pay down debt. Resource companies, by contrast, are cash rich, and are more likely to engage in buybacks or other returns.
Unsurprisingly, the main contributors to earnings growth are the resources and banking sectors. Yes, Australia, is the land of mine holes and bank-inspired housing bubbles, as my magisterial, even regal, co-blogger observes. The rest of the industry base is a few cartels and some ragged exporters, or, worse, failed globalisers. IAG's slashing of interim earnings from $329 million to $161 million, which is being widely attributed to its ill-fated foray into the British market, is yet another example of a failed overseas venture (QBE in the insurance sector being an obvious exception). If Australia is to have any hope of a decent industry base, it has to get better at globalising, especially in Asia. Since November, 2007, IAG's ratio of downgrades to upgrades is 10 to 1. Ouch.
About a fifth of companies have reported, a third by market cap. It all seems pretty much in line. The All Ordinaries and the ASX 200 have both risen by a little over 3%.