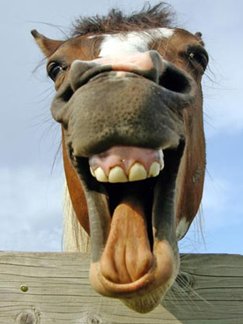 I have been watching the National Consumer Credit Protection legislation for some time now. It seems to be slowly creeping into other people's radar as well. 
"Under the new National Consumer Credit Protection (NCCP) legislation, lenders are being more cautious when lending to the self-employed and small business owners who, unlike PAYG borrowers, do not have straight forward pay slips or group certificates to verify their annual income," Mr Rushton said.

"As a result, many hard working self employed people and small business owners are finding it harder to get finance."
But that isn't funny. This however is.
Five days ago from NAB
NATIONAL Australia Bank will pay the exit fees for home loans in a bold bid to poach customers from its two biggest rivals. 
Yesterday from the Government.
The Federal Government has today released an Exposure Draft Regulation to the National Consumer Credit Protection Act. The Regulation would insert new Part 7-2A "Prohibited Fees and Charges" to the National Consumer Credit Regulations and add Regulation 79A "Termination fees for certain credit contracts".

The release is part of the Government's "Competitive and Sustainable Banking System Package" announced in December 2010. This package included a proposed ban on exit fees for new home loans.

Under the new Regulation, home loans written on or after 1 July 2011 will not be subject to fees and charges on termination of the home loan contract unless the fee or charge:

relates to the early termination of a credit contract for a fixed rate loan and is payable as a result of a change in the cost of funds to the credit provider; or

only reimburses the credit provider for the reasonable administrative costs of terminating the credit contract. A cost is a reasonable administrative cost only if it does not exceed a reasonable estimate of the average reasonable administrative cost to the credit provider of terminating that class of credit contract.

"Unconscionable" early termination fees are provided for under the National Credit Code. A court can annul, reduce or change an early termination fee if it appears to the court that the charge exceeds a reasonable estimate of the credit provider's loss arising from the early termination or prepayment, including the credit provider's average reasonable administrative costs in respect of the termination or prepayment.

Under the proposed Regulation, termination fees and charges would be affected whether they are charged on early termination or on maturity of the contract. In addition, the new Regulation will prohibit these fees rather than make them reviewable for unconscionability.

The limitation to the "average reasonable administrative costs" on termination could suggest that a credit provider must not charge more than the average administrative cost for terminating a class of loan, even if the actual reasonable costs for a particular loan exceed that average. Submissions may wish to focus on this point.
So NAB was promising to pay the exit fees of other banks which they knew they would be forced to scrap anyway.
You know what they say "If it quacks like a duck".