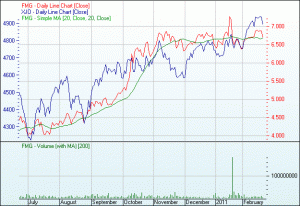 Friday was an interesting day for Andrew Forrest, chief executive of Fortescue Metals Group, one of the few people in the last two decades to successfully carve out a position against an Australian cartel. In the morning the company announced its first dividend, which was deemed by no less an authority than Bank of America-Merrill Lynch as a sign of growing confidence in the company's future cash flows. Fortescue had arrived as the third force. In the afternoon, the Federal Court overturned a December 2009 decision which said the Australian Securities and Investments Commission should not have brought a civil penalty suit against Fortescue for alleged misleading behaviour.
While making no comment on the validity of the accusations, taking on Rio amd BHP is no mean feat and a bump or two along the way was perhaps inevitable. The difference can be seen in the net debt to equity between BHP, Rio and Fortescue. BHP has net debt to equity of 0.7%, and interest cover of 70 times. Rio Tinto, now allergic to debt, has negative net debt to equity, and interest cover of minus 1,076 times (i.e. not relevant).
Fortescue, by comparison, is heavily geared, which was one reason why the proposal for the Federal government's (unconstitutional) mining tax not to allow mining companies to deduct interest on debt drew such strong opposition from Forrest. Fortescue has net debt to equity of 106% and interest cover of 7.3 times. Not especially unusual for a growing company, but it underlines the difference between established global behemoths and the "third force" in iron ore mining in Australia.
Fortescue has had little trouble raising corporate debt in the post-GFC world. The company raised about $2 billion in cheap debt. With the base rate at about 1-1.% even with wide spreads the debt is pretty cheap. Last December, the company issued $1.8 billion in  bonds, five-year notes priced at a yield of 6.375 per cent. It may be geared, but lenders like the story.
Brokers like the story, too. This might be a reason for traders to start playing against rising institutional interest. Merrill Lynch has a buy and price target of $8.58 concluding the financial score card is "getting cleaner". Goldman Sachs has a buy and a stronger price target of $9.46. Deutsche Bank recommends a hold, questioning the firm's "execution risk" (see below) Macquarie sits on the fence with an "outperform" and a target price of $8. Royal Bank of Scotland has a buy.
With the higher debt, Fortescue is more exposed to price shocks and the possibility of over supply. But with the earnings multiple dropping from 31 times in 2009-10, to probably about 14 times this financial year, there is no doubt the company has arrived.