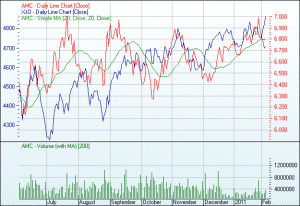 Analysts' forecasts for the reporting season are showing just how biased the Australian economy is becoming towards the mining sector. UBS is estimating earnings per share growth for this financial year to be 14.4 per cent. Resources are predicted to be up 43 per cent, the rest of the market up only 4.5 per cent. This two tiered market is creating an economy run by miners, government and banks and ere are growing signs of concern in other sectors.
The paper manufacturer Amcor, which gets just 15% of it sales from Australia is one to show concern. Chief executive Ken MacKenzie fretted in The Australian that "the mining boom sucks up all excess capacity, drives up prices and the value of the currency, and ultimately – like all mining cycles – it will turn negative."
He has a point.  In fact, it is pretty obvious. The mining boom, as economist Warwick McKibbin has pointed out, will affect relative pricing through the whole economy. An unhealthy duopoly of power between government and big miners is likely to develop, with the rest of the industry base left dangling. When MacKenzie says he "can't understand why the national debate isn't focussed on how to leverage the mining gains long term" he is far from alone.
As for the one sided market, most of the profit expectations are already priced in. Investors' interest in the short term will be on companies that surprise the market on either the upside or downside. For more longer term players, however, one has to conclude that the prospects of non-mining and non-energy stocks are not altogether promising. The $A is strong, which reduces demand from foreign investors (although their exodus has slowed). The economic stimulus, which did not benefit listed stocks much anyway, has been pulled back.Aggregate consumer spending rose at a sold pace in 2010, but as Deutsche Bank points out most of it went on cars and restaurants, rather than retail. This is not represented in the stock market. Business capital expenditure was negligible.
And there are growing interest rate pressures on Australia's heavily indebted households.
What is emerging is a market struggling to repeat its mediocre performance of last year. Still, there are always trading opportunities. For the counter cyclical player, Citi's forecasts for the biggest drop in net profits after tax on the previous year in the ASX100 companies are: Telstra (-14%), Leighton Holdings (-33%), Primary Health Care (-29%), CSL (-24%), Billabong (-20), Challenger (-31%), Caltex (-29%), APA (-20%), Charter Hall Office (-27%), Suncorp (-36%), Aristocrat Leisure (-53%) and QBE (-21%). Those drops are presumably factored into the share price, so any positive surprises in these company's results may create short term capital gains as sentiment improves.
In the longer term, however, the picture for non-resources stocks looks far from healthy. Industry policy may be a dirty phrase in Australian politics, but are the other choices far worse? And will we end up with no industry other than some holes in the ground?