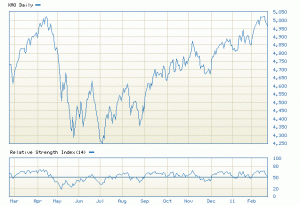 What will Australia's industry base look like after the mining boom has become dominant (assuming it will)? The effect on the currency is clear enough, with it trading at parity. The latest reporting season for listed stocks gives us another clue. It is very much a case of rich man, poor man. According to Deutsche Bank, there has been overall profit growth of 20% on the previous corresponding period, a healthy result. But industrials have only recorded profit growth of 1%, which is 2% below expectations. "It is somewhat surprising that companies haven't benefited more from solid economic conditions," Deutsche concludes, explaining that it is the high $A, low capex and slowing retail demand. Resources and bank stocks still report "impressive results" — houses and holes, in other words (good title for a blog, that).
This is a harbinger. Australia faces the prospect of a deeply skewed economy, in which relative pricing is affected by soaring commodity prices. If the housing bubble does unwind, this will only make the two speed economic effect greater, because householders will feel poorer, reducing demand. Even if this resulted in a recession, the effect on the $A is likely to be minimal because its strength is linked to China — indeed, the currency is a proxy China play given that China is fixed on the capital account. So whereas in the past economic weakness has resulted in a weak currency, allowing exporters to thrive and boosting sectors like tourism and education, this time round there is not likely to be much of a reprieve.
Macquarie Equities notes that the overall earnings per share growth for the second half of 2010 was negative, -2.2%. This happened "at a time of supposed economic recovery". So what happens if there is an economic weakening? Macquarie points out that earnings per share growth has not been the major driver of stock performance over the last week. A Macquarie report comments that heavily downgraded stocks have performed well, which it says is a "major change from the normal share price response during the normal reporting season." The reason, Macquarie argues, is that investors are looking at this as the bottom of the cycle. As support, it notes that earnings multiples for this financial year have increased from 14 times to 15 times, and for next financial year from 12.8 times to 13 times.
Those investors might be dangerously optimistic. Margins are contracting in the industrials sector, as well as falling revenue. And that may get worse as Dutch disease becomes Oz disease. True, there are many industrial sector domestic cartels in Australia that have huge market shares. Royal Bank of Scotland notes that there was a negative reporting surprise for 29% of big cap stocks compared with 58% for small caps. But where will they get their growth in this mining-centric economy, especially if the housing asset bubble starts to deflate?
RBS warns of a "sustained period of market euphoria" and a higher appetite for risk. In the non-mining sector, that could prove dangerous.