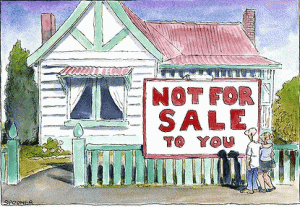 In the wake of the 2011 Demographia International Housing Affordability Survey, which identified Australia as having the most unaffordable housing in the Anglosphere, it appears that pressure is building on the Australian Government to take corrective action. Over the past two weeks, concerns have been raised by three disparate groups: the Sacred Heart Mission, the Real Estate Institute of Australia (REIA), and the Australian Greens.
In an article entitled Condemned to poverty in a housing market gone mad,  the Sacred Heart Mission slams Government inaction over Australia's housing affordability crisis, which it claims is having a dire impact on the most disdvantaged groups in the community.
Last week we read the alarming statistics released by the Demographia International Housing Affordability Survey, which ranked 325 housing markets across the world. It is now more affordable to live in Los Angeles than in Melbourne and cheaper to buy a place in London than Geelong.

Those of us who work in agencies such as Sacred Heart Mission are not surprised by these statistics because they simply reflect the homelessness and housing stress we witness on a daily basis…

Every day at Sacred Heart Mission we see the human face of the housing crisis and the impact it has on people's mental and physical health, employment prospects and ability to connect with the community…

For too long governments of both persuasions have either ignored the crucial issue of housing or tinkered at the edges of the problem. Safe and affordable housing is a key foundation of any civilised society and deserves significantly more attention than it gets…

This is not good enough. Our federal government must show strong leadership and be bold in its policy responses.

First, it must appoint one cabinet minister who can dedicate his or her full energy and time to this complex and vital issue. There are currently three ministers who are responsible for different aspects of housing.

Second, the government needs to make changes to the tax system that will encourage and stimulate investment in affordable housing. I refuse to believe that changing our negative gearing system is an impossible political task.

We also need a 10-year plan for public housing that includes targets and sets forth the required investment – agreed to by federal and state governments. In Victoria, the target should be the provision of 3000 additional units in each of the next 10 years.

These are just three of numerous initiatives our government can undertake to start addressing this issue.

If we do not take bold and decisive action now it will condemn many thousands to a life of poverty and disadvantage.
The Sacred Heart Mission's concerns were preceded by the REIA, the main lobby group for Australia's real estate agents, which issued a media release entitled Affordability still a great concern across Australia:
The Real Estate Institute of Australia (REIA) President, Mr David Airey has commented on today's release of the Demographia International Housing Affordability Survey saying that the report confirms the REIA's own research…

 "In the most recent REIA/Deposit Power Housing Affordability Report, it was reported that housing affordability had reached a new low in Australia – the largest annual decrease in housing affordability since the beginning of the decade", he continued…

"The average weekly Australian household income is currently $1434.00, while the average monthly home loan repayment is $2163.00 per month – for the majority of Australian families the difference between household income and loan payments is narrowing quickly", he said.

With the most dramatic decrease in housing affordability in 10 years and a worldwide comparison that highlights Australia as being the "most remarkable" for its decline in affordability, there is no question that the Reserve Bank need to leave rates on hold next week and for the foreseeable future", continued Mr Airey.

Another major contributor to the worsening state of affordability is the lack of supply in the housing market.

"We have called on all levels of government to address the issue of supply, which will relieve pressure on house prices and in turn, improve affordability", he said.

"Reports such as the REIA/Deposit Power Housing Affordability Report and today's release by Demographia International should be evidence enough that this is a crucial matter for governments to address", Mr Airey concluded.
On the same day, the Australian Greens launched a press release entitled Housing affordability in Australia a 'world-class outrage', in which it condemned existing housing policies and called for urgent corrective action:
The Australian Greens have called for urgent action in response to new housing figures showing Australian cities are among the least affordable in the world.

Greens housing spokesperson, Senator for Western Australia Scott Ludlam, said it was "inexcusable" that Australian cities were among the most expensive in which to live…

Senator Ludlam said "there is a contradiction between the Government's work on affordable housing and Government's actions that provide incentives designed to benefit investors and speculators and to keep house prices going up".

"There is a tension between the idea of housing as an asset class, which demands appreciation and ever-increasing returns, and the notion of housing as a human right, which requires stability – not property bubbles," he said.

Over the last ten years Australia has seen a 250% gain (or a 9.5% annual rise) in residential property prices (Fitch Ratings Australia Outlook Report). In recent years the Government has operated a number of initiatives aimed at bolstering home prices, including the first home buyers scheme, and generous capital gains and negative gearing incentives for home owners and property investors.

The 2008 Senate Select Committee on Housing Affordability in Australia found that $50 billion is spent every year on capital gains exemptions and negative gearing incentives. Another $13 billion has been spent on the first home-buyers grant since its inception in 2000. This compares to Government spending of $512 million Housing Affordability Fund to be spent over five years to improve the supply of new affordable housing…

"The Government clearly needs to restore its dedicated housing minister in this time of crisis, with housing as a stand-alone portfolio that is not distracted by other responsibilities. The carve-up of the housing portfolio under the Gillard Government is unfathomable. This is a serious problem that needs serious attention."

Senator Ludlam said the enormous pressure on Australians hoping to own their own homes took a heavy toll.

"When a family or an individual has to spend so much of their income on paying their mortgage, it has a seriously adverse affect on their education and training opportunities, on their investment opportunities and on their ability to pay for services like health care and child care," he said.
Australian readers will remember that the Rudd/Gillard Government was elected in 2007, in part, on a platform of housing affordability. Yet since that time, it has implemented a number of measures that have assisted in making the situation worse, whilst refusing outright to implement some of the sensible measures proposed in the Henry Tax Review aimed at reducing tax-driven property investment and curbing speculation.
Whilst policy prescriptions vary, each group is now signalling to the Government that the housing situation in Australia is highly unacceptable and that the time for talk and token policy gestures is over. Concrete action is required to arrest the decline and restore affordability to the housing market.
The Government should take heed. Otherwise it risks getting punished at the ballot box by younger Australians and disadvantaged sections of the community that have been so badly let down.
Sometime in the next few weeks I will articulate my policy wishlist for achieving stable and affordable housing.
Cheers Leith