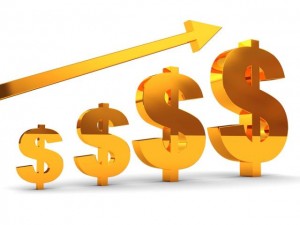 Here's the latest idea in the market. Dividend payments from mining companies (yes, some mining companies pay dividends). The long term commodity boom, which is dominated by a global oligopoly, may be triggering a change in the way mining companies are evaluated, away from capital gains and towards dividend. Analysts are trying to ride the sentiment; probably as a pitch to still nervous local institutional and retail investors, who remain sceptical about the market.
Southern Cross Equities notes that the resource sector's dividend payout ratio has fallen from a long term average of 35% to 18%. Citi notes that dividend payout ratios have failed to keep pace with rising earnings. Globally, payout ratios were about 22% in 2010 and are likely to fall to 19% in 2011. This is well below the 10 year global average of 37% and 5 year average of 29%.
In the media chatterazzi there is movement. The Age says that the restarting of dividend payments by BP has taken some pressure off BHP Billiton and Rio Tinto. But it is argued that the mood is changing:
"The rediscovery of the attractions of dividend yield by investors (including US investors, who have ignored it for decades) is likely to force more aggressive dividend and capital-return policies from them as the commodity boom continues: Rio and BHP both will have noted yesterday that on Tuesday night their Brazilian competitor, Vale, committed to a minimum $US4 billion dividend this year, up 60 per cent on 2010." (Malcolm Maiden)
Globalisation has created a two tier mining structure: behemoths such as BHP, Rio and Vale, and smaller, emerging companies. These oligopolies may as well pay the massive cash they are generating out to shareholders because they are so big that they are going to have difficulty making acquisitions. BHP's failed bid for Canada's Potash Corporation showed that there are issues of competition and sovereignty whenever these giants make a large play. And in any case finding acquisitions big enough to make a real difference is a challenge.
Smaller companies are more appropriately capital gains plays, given that their strategies tend to be to re-invest earnings to fund exploration and growth. But fund managers are saying that they have outperformed the big cap stocks over the last year; that race may be run.
In the end, the dividend versus capital gains dichotomy is a dubious one. If the market starts focusing on dividends then the share prices of the high dividend payers rise, creating capital gains (and reducing dividend yields). Still, it may be the way things are moving. Local institutional investors are still sceptical and retail investors are still looking for downside protection.
It probably won't appeal to foreign investors (about 40% of the exchange) which have retreated from the local bourse over the last year because of the rising $A. They are still making allocations into the commodities sector, not least because it is a proxy China play so are less likely to be concerned about dividends. Theirs is more an asset allocation play, modified by the effects of currency movements.
So what does it mean for companies? According to Citigroup, New Hope, Equinox, Atlas, Mount Gibson, PanAust and St Barbara may all introduce dividends. Increased dividends could also come from Kingsgate, Iluka, BHP, Rio and OZ Minerals. But apart from Eneregy Resource of Australia, which has a forecast dividend yield of 5.3% all the other mining stocks Citi considers have dividend yields of 3% or below. That means for most stocks, it is already priced in. Dividend yields may be just part of the capital gains play after all.