As usual, the media is beating housing finance data to death with a feather.
It's nothing personal, and this blogger could have thrown a dart to choose which overly-bullish article to deconstruct, but Adam Carr goes further than most so he's up for a flaming. Using the new ABS housing finance commitments data, Carr argues the following:
As the chart above shows, the number of loans remains well below what a simple linear trend (representing population growth etc) suggests we should be at. Note, however, the speed at which loans rebounded in the second half of 2010. They're up about 11.5 per cent over that period, which seems to confirm my view that it was the pace of rate hikes earlier in the year, rather than the level of rates, which spooked potential buyers. That and the fact that doomsayers were having a field day telling you the world was about to end – Europe falling into a sink hole and the US double dipping, etc.

This is a pretty decent signal (as an interest rate sensitive sector) that all of this talk of a downturn and cautious consumers and all that, is, well, just talk. Loan growth slowed, there is no doubt about that, but it wasn't the level of rates or new found conservatism that held things back. It was fear or a lack of confidence – remember the news flow last year, think back to that, because it weighed heavily.
Fair enough, this blogger supposes but let's take a look at another chart from the ABS. This time it's the household savings ratio: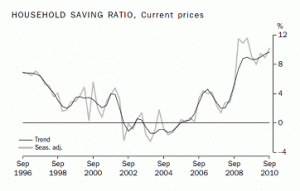 Does that look like a 2010 news-cycle related shift in sentiment to you?
That's not to say that consumers won't grow more confident over time and there was an uptick in the aggregate of mortgage debt being approved for purchase of existing dwellings in December. Unexpectedly, it's now running at around 2006 levels.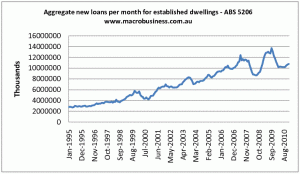 But it gets quite a bit weaker if we look at the number of loans being approved for established dwelling purchases, which are running at around the same level as 2004 or 1999, depending on your poison: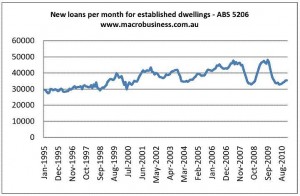 Without putting too fine a point on it, there is an internal discrepancy of fewer loans at higher totals per loan, suggesting significant affordability pressure.
One point this blogger does agree with Carr on, is that a test lies ahead. With the RBA on pause, it's possible housing will bounce. To get some early indication of whether the RBA's hold has an effect, this blogger asked the good folk at RP Data for the last couple of weeks of clearance rates: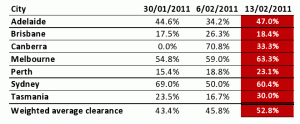 Red is last weekend, preliminary and subject to revision. Nonetheless, we do have something of a bounce here. Or, at least, a dragging, drunkenly, off the floor.
Let's be bullish, as they say, and assume it continues. Rates will rise sooner than currently expected (the dollar jumped today and maybe the less dire housing data was part of why). Of course, that will choke off both housing and consumption once more.
Carr is contradicting himself in being bullish on rates and consumption.
David Llewellyn-Smith is Chief Strategist at the MB Fund and MB Super. David is the founding publisher and editor of MacroBusiness and was the founding publisher and global economy editor of The Diplomat, the Asia Pacific's leading geo-politics and economics portal.

He is also a former gold trader and economic commentator at The Sydney Morning Herald, The Age, the ABC and Business Spectator. He is the co-author of The Great Crash of 2008 with Ross Garnaut and was the editor of the second Garnaut Climate Change Review.
Latest posts by David Llewellyn-Smith (see all)