After a string of poor data, the economic cheerleaders have something genuine to celebrate – capex.
The local keystone of the endless economic strength thesis is ongoing high business investment, largely by mining firms, as we supply urbanising China and India with raw materials.
The following graph is the ratio of capex to GDP going back to 1990: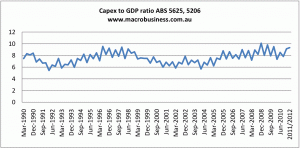 No doubt about it, since 2003, we've enjoyed a great run of business investment. And that's hard to knock. It's what capital formation and sustainable growth is all about. But this graph also contains the seeds of the problem, ignored by all of yesterday's pom, pom girls. Note that despite a spectacular surge in planned investment, the ratio of total capex to GDP projected for 2011/12 is not breaching the highs of commodities boom mark I (this blogger extrapolated GDP at 3.5%).
That's because mining is the only sector planning record capex. If we take a close look at the sectoral split, it's an extraordinarily focussed mining boom: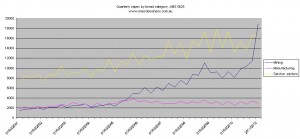 The above graph is actual capex plus ABS expectations data for 2011/12 cut into quarters (this blogger has added upwards seasonal adjustment to services too). To cut a long story short, manufacturing is cactus, services are bouncing around but below the level set in 2008 and mining is planning to go completely insane. For the contrarian, that mining spike is a red rag to a bear.
If we dig down further still, and split the services block, up until Dec quarter 2010, we find 3 of the top 5 capex sectors are in declining trends: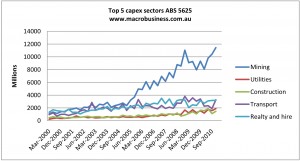 This graph ends at Dec 2010 because the ABS does not provide granular expectations data. In trend terms, realty, construction, transport are all down. Utilities solid. As seen in the previous graph, services are projecting a bounce in investment for 2011/12. The ABS had this to say:
The main contributor to this increase, was Transport and Storage (27.3%). Buildings and structures is 20.8% higher and equipment, plant and machinery is 2.4% lower.
We can't really say much more than the declining trends look set to become sideways trends.
Australia is experiencing an incredible mining boom. And why not with iron ore and everything else at stratospheric heights. But the nation itself is not booming like it did in mining boom mark I (remember, GDP has grown three years since the highs of 2008).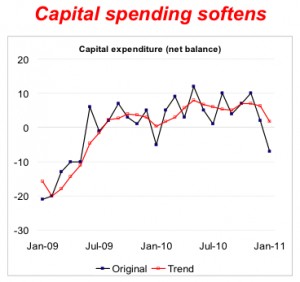 This is from NAB's January Monthly Business Survey and shows the effect on miners of just two months of softening export prospects because of a few showers up north. Imagine the effect genuine China doubts would have?
The bulls are back in green pasture, but the mining spike shrieks blowoff.
David Llewellyn-Smith is Chief Strategist at the MB Fund and MB Super. David is the founding publisher and editor of MacroBusiness and was the founding publisher and global economy editor of The Diplomat, the Asia Pacific's leading geo-politics and economics portal.

He is also a former gold trader and economic commentator at The Sydney Morning Herald, The Age, the ABC and Business Spectator. He is the co-author of The Great Crash of 2008 with Ross Garnaut and was the editor of the second Garnaut Climate Change Review.
Latest posts by David Llewellyn-Smith (see all)