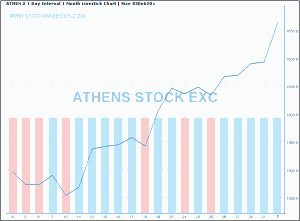 Today's report by UBS on global equity market performance in last December highlights the value of buying after bad news. The best performing market was … Greece. Presumably after the announcements that Japan and China would pitch into help the Eurozone debt auctions. Those who bought during the Greece crisis will have done well. Of course China will help the Euro; it is positioning to take on the $US as the world's reserve currency when it floats the yuan. It cannot do that without a third currency – it needs yuan-euro trade to sideline the greenback.
Globally, mining was the worst performing sector and energy the best performing. Financials also performed poorly. Locally, the worst performing big cap stocks last month underlined the value of picking struggling companies whose valuation is coming back to "normal". Large caps stocks in Australia have to screw it up pretty royally, considering they are almost automatic beneficiaries of massive super fund inflows. That makes them good candidates to buy when any bad news about them has been priced in.
In January struggler Macquarie Group was up almost 10%. Incitec Pivot rose almost 9%, despite being affected by the floods. Nice returns.
Where next to look for the dogs that might be worth a flutter? Worst performing stocks in January were Downer EDI, down 16%, Lynas Corporation, 13% and Sims Metal Management, down 10%. Downer is getting a buy recommendation from Merrill and Deutsche Bank has a buy on Lynas with a 12 month price target of $2.52 against a price of about $1.90.
What about the best counter intuitive sectoral plays? The reporting season is set to reveal yet more evidence of the two speed character of the Australian economy. UBS is predicting earnings per share growth for the whole market of 14%, with resources up a massive 43% and the rest of the market up a desultory 4.5%. Retail, financial services and some US economy exposed stocks, especially Boral and James Hardie are likely to report poorly.
On the face of it, this looks like a recipe for price weakness in those sectors, but Citigroup notes that there is another trend under way – receding balance sheet pressures. With gearing reduced, there is scope for higher dividend payouts. Citi is predicting dividend growth of 10%. Companies may also start returning capital, as a way to boost their return on equity. Modest price earnings ratios may create a case for buybacks.
Having raised a massive amount of equity during the financial crisis Australia's corporations may be deciding to return it.  The best returns may not come from capital gains, but eitrher higher dividends or returns of capital to shareholders.