Sachs Says Democrats, GOP Both `Unrealistic' on Budget
Uploaded by Bloomberg. – News videos from around the world.
Earlier this month, Columbia University Professor, Jeffrey Sachs, launched a stinging attack on the state of economic and social policy in the United States. Sachs is particularly angry that the Government is cutting core Government services at the same time as it cuts taxes for the rich, in refernce to December's $9 billion worth of tax cut extensions.
Here are some key sound bites from Sachs' February 14 interview on Bloomberg:
"What's happening in this country? We give up massive amounts at the top in tax cuts and then we turn around and we squeeze the poorest of the poor. We cut grants for higher education in the same month that the President tells us that it is key for our competitiveness…

This is absurd what we are doing. The rich have had 20 years of the greatest boom of the history of this world. There's more wealth in this city [New York] than one could conceivably count. There are more billionaires and more people that have sheltered their income and we turn around and we are going to keep driving down the poorest of the poor… This is a game that is going to come to head in a bad way.  Do we really have to have our own Egypt here in the United States or are we actually going to understand that we have a society where half the people have no voice at all…

Both parties are financed by wealthy people… Everyone caters for the top and then we hear about how hard it is at the bottom; about how hard it is to cut the community development programs…

American influence is waning. American infrastructure is deteriorating. American competitiveness is slowly declining. The President says all these things…but he can't back up these ideas with real money because there is no money. So all that's happening is a gradual decline in the United States…except at the top…

Our country has become two completely different countries. One is at the top and they run the politics. They finance the campaigns of both the Democrats and the Republicans [which are] both centre-right parties. It's weird, we don't have a centre-left party. No one's talking about the poor… Our politics is driven just by the top and every one else is wondering what's happening. Our streets aren't being paved. We don't even have clean drinking water anymore… 

What's really shocking is that the Civilian Discretionary Budget under Obama's plan goes down to 2% of gross national product – that's for education, infrastructure, energy, science – we have never seen anything like it. They are basically saying forget government other than social security, Medicare, Medicaid and the military…

We are cutting our budgets on things that are vital for our national security and our international security, like climate [change]. And big oil, which runs the Republican Party, keeps saying don't worry, those things don't matter… Both parties are on the take because all of this is campaign financing games…

We are wrecking the global climate. We have energy crisis, food crisis. Do we talk about any of that in our country? Absolutely not, Our leadership doesn't even exist…     
The upcoming issue of Mother Jones contains a series of charts confirming Sach's views (h/t Bernard Hickey for link). Here are my two favourites:
First, the change in incomes since 1979: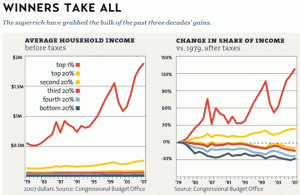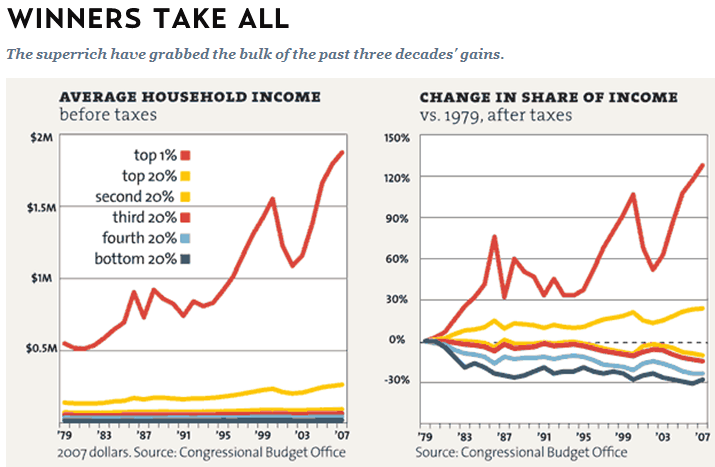 And the winners and losers from 2007 to 2009: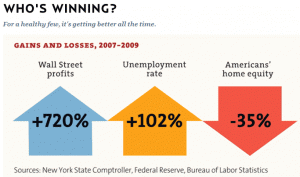 And the rich's gains have not only been financial. According to The State of Working America, improvements in life expectancy have overwhelmingly been concentrated within the wealthy (again h/t Bernard Hickey for the link):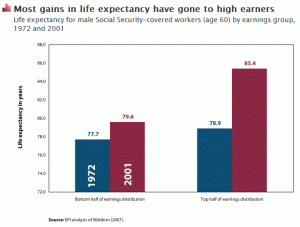 Clearly, there is something seriously wrong with the United States. And it appears to stem from its political system, which is captured by America's elite. Something's got to give. Having so much wealth concentrated in the top 1% of income earners is seriously corrosive to society and may ultimately lead to conflict, mass riots and mayhem.
Cheers Leith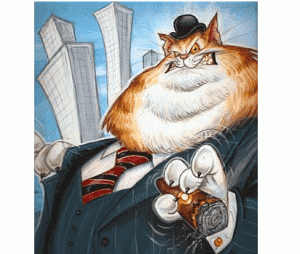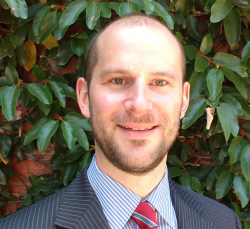 Latest posts by Leith van Onselen
(see all)